Skalpel & Dj Monark – Radioactif (2021)
There are some « classic » meals that you can let simmering knowing that you'll never be disapointed. In this case, Skalpel and Dj Monark takes out of the furnaces a new album labelled « nineties french rap » bearing all the genre attributes. We have our blast as conoisseurs, also raised into the same kitchen. | By Polka B. / Translation: Nino Futur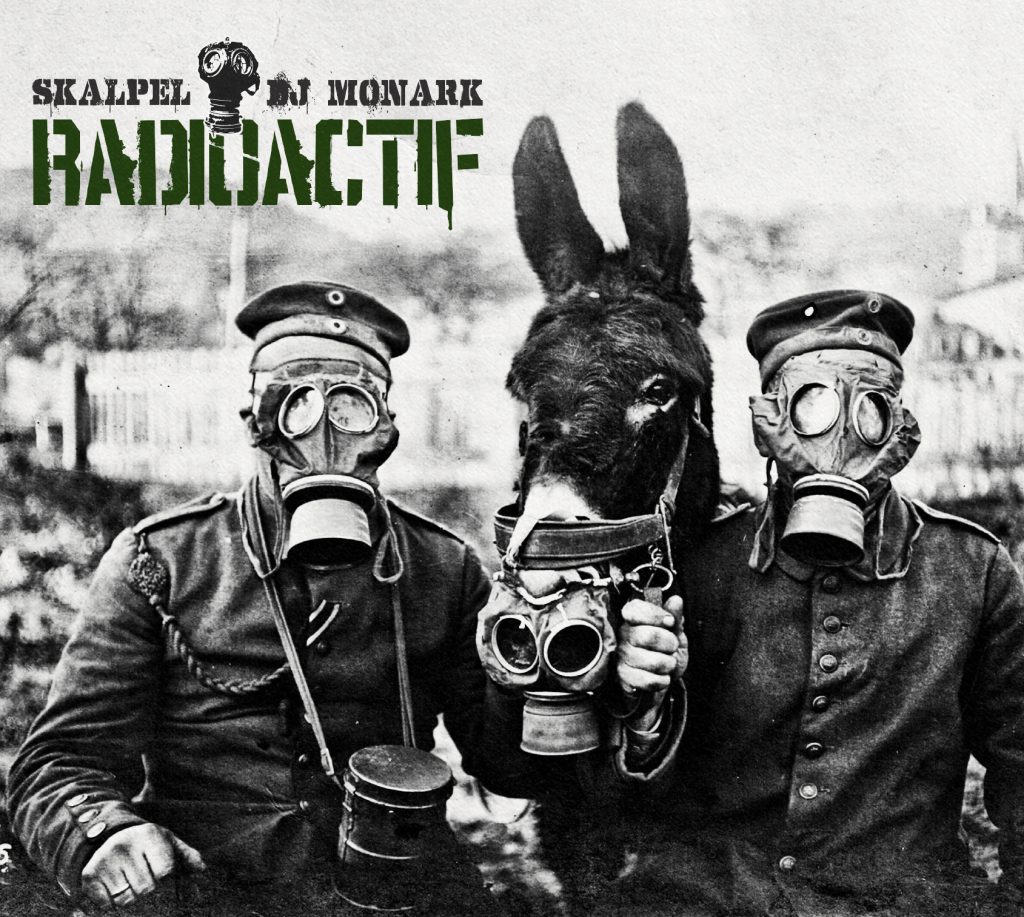 The good thing with this purposely paranoid artwork, it's that it doesn 't lie about the content.

From the first notes of the introductive « Radioactif », the die is cast : this post-covid album will be dark and rainy for sure.

As a sound background, a threatening hip hop atmosphere typically New Yorker in the Infamous Mobb vibe.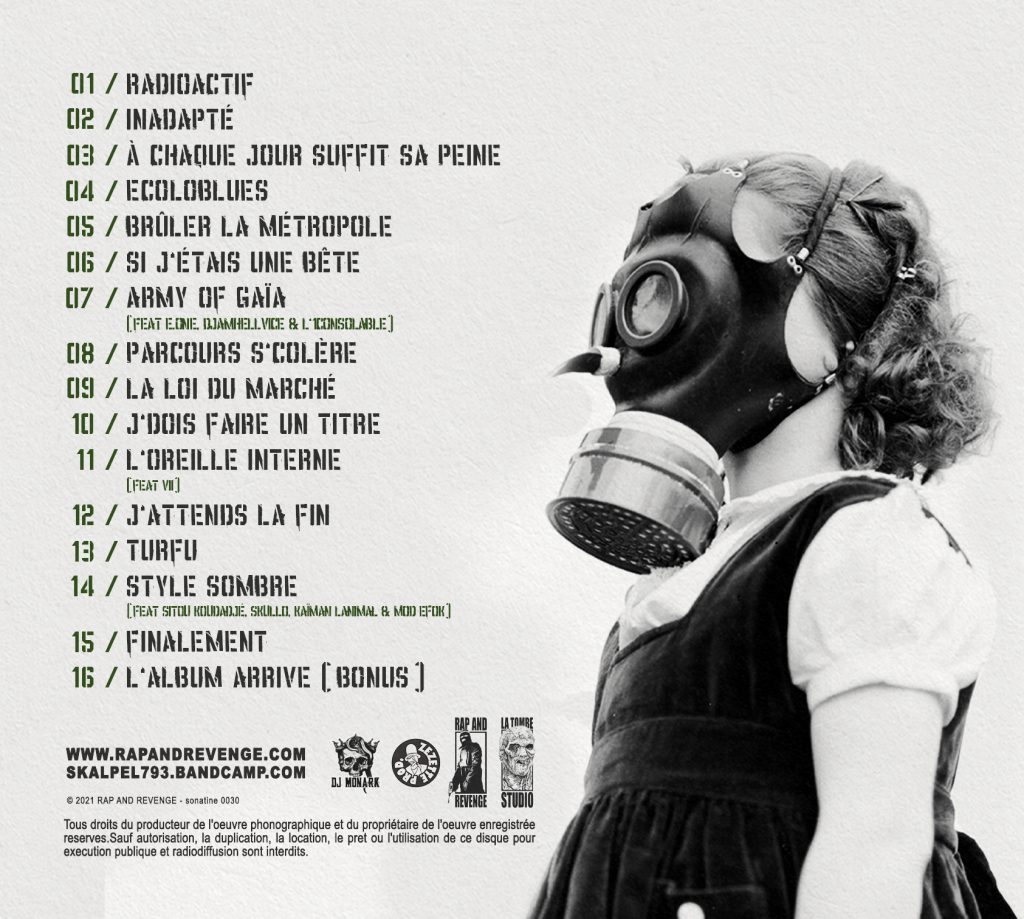 An even more glaring observation with the beat on « Army of Gaïa », inevitably reminding atmospheres as Special Edition, or Blood Thicker Than Water, Volume 1.

The beat on the excellent "Si j'étais une bête", propels us to the times of Group Home, "Livin'Proof" era. You'll ask me: and where's the linkage with french rap ? Well, for a rapper of its generation, Skalpel having officiated in the scene since mid-90s, hard not to rely his street DNA to the Queensbridge rap aesthetic..
Soaked by these atmospheres, french kickers have happily drawn into east-coast references to elaborate their « french sound ».


Well experienced, the beatmaker Dj Monark probably knows that Skalpel is never as comfortable as on this type of beats. Everything resulting on a perfect alignement of planets and we just have our blast to get !The album's climax is reached on the song « Parcours s'colère », the perfect example for a skilled retrospective song. Another fully 90's labelled song : sad classical piano, scratches and samples well placed on the chorus (Fayçal, Scred Connexion, Casey…) and rimes certified A.O.C !
Though this mastered storytelling,the Aulnay's rapper redraw his évolution and the big steps of his teenage years, from the elementary to the « Victor Hugo » school until obtention of his High school diploma on sciences, some intimate anecdotes with an overview drawing the evidence of social determinism. Like on all of his previous albums, the rapper do not spend a single pound of his energy in complaigning : growing in a hard parisian suburb hood, being from an immigrants family, and having known misery cannot constitute any source of lament for him.
« Sixty nationalities in my hood, this ain't France
this is way better, this is the world, this is my fucking childhood »

Parcours s'colère
Proud, his voice doesn't lie. His rap is the one you shout keeping your chin up.

If this flashback makes a highlight on the album, it doesn't outweigh the main point : the states of mind of a Skalpel « cru 2021 », assuming his old-timer life far away from trafic jam, ring roads and the RER B train way.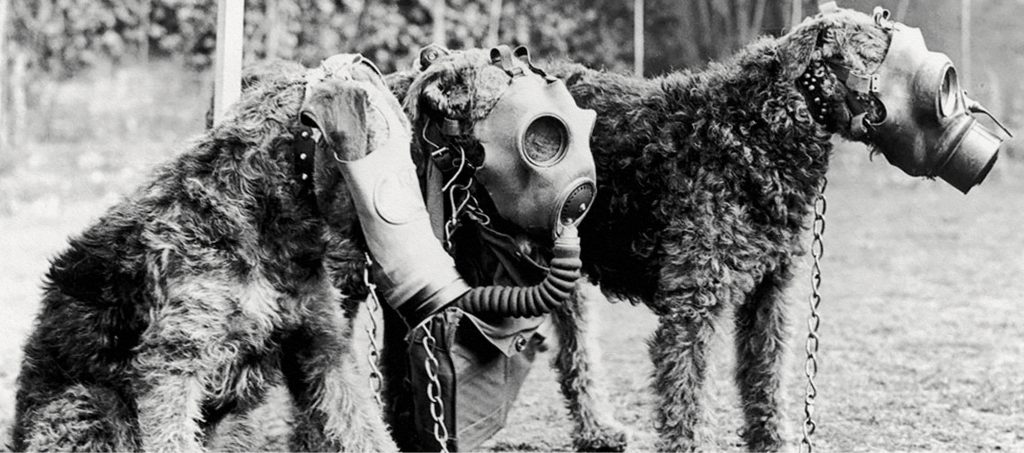 Away from the hustle and bustle of the city, the rapper stays abreast to the actuality of a world on the loose (« Inadapté »), still not fooled by the simulacrum of capitalist life standards (« Brûler la ville », « La loi du marché »), a proletarian lifestyle, where feeling blue's an usage (« à chaque jour suffit sa peine »). Fortunately to stay on the course : « [il] prépare un nouveau skeudi ». That's the whole point of the album.
« This is party night, people wanna have fun. Searching though my index, ain't got nothing to propose
Only gloomy stuff, dirty radicalism
Too much politics for them,gonna trash them al l»

J'dois faire un titre
Under a radioactive cloud, Skalpel molds with melodies (« pour ça pas besoin de contrat ») mistreat the writting paper expressing his rage, as much for love of rap as for hatred for bourgeoisie.

Over the listenings, we appreciate an album that fits like a glove for the enthusiast, far from the frenzied youthism of an artist seeking after trends to stay on tracks.
A Radioactifve album with a mastered craftsmanship that will get old as well as the one who crafted it. And if the secret, was only trying to stay yourself ?
« Finally nothing's exeptionnal
like Ghost Dog, I step into the tunnel
With a scalpel or a sharped blade
I draw the outlines of my delineate curvatures »

Finalement