Pina (ANTIDIGOS)
To get to know better a place charged in history, nothings better than a subjective, personal angle that smacks of experience! Under the Bari's sun heat , inside the Caserma Rossani, interview with our friend Pina, singer of the punk band Antidigos. Activist within the place, he gave alot of himself in these buildings and does not intend to save the energy he has left. A testimony that inspired us a lot. Strength to him and to all the people in the collective. | By Polka B. – Translated by Ornella & Nino Futur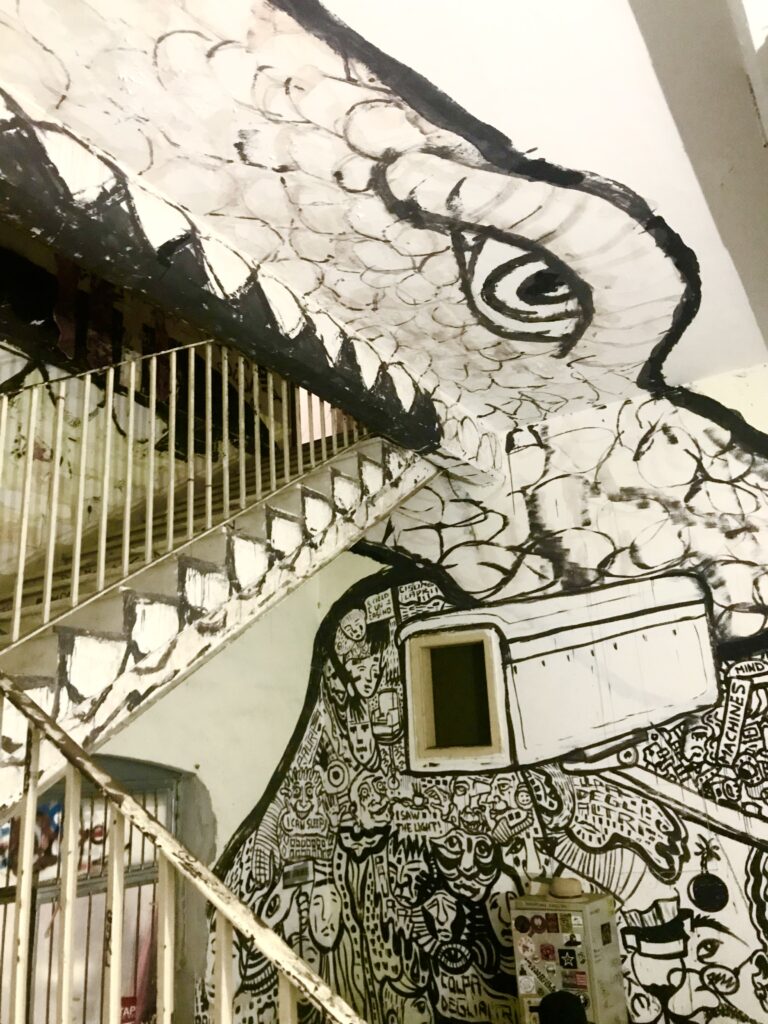 How was the squat opened?
Pina : The building was abandoned a very long time ago. In reality, we arrived here following the expulsion from another place (Villa Roth, NDLR). After several discussions, all the comrades in the region joined forces.

People came from a lot of cultural and political backgrounds, from skinheads to hip-hop people to autonomous. We had a procession through the city of Bari, and towards the end we all entered this building.
The idea was to open a self-managed social center in the city center. Over time, a popular gymnasium, a theatre, a library, a dance hall, a screen printing workshop have been created… Here, there has always been a diversity of people and activities.

Since covid, many places around us have been weakened. We must recognize that we have lost a lot of people and motivation to make things. Our goal is therefore to reanimate our space with new activities. Currently, there are only the loyal ones coming and this is also my case, because I can't imagine my life outside this type of spaces.
The potential of Bari is huge but often people here don't see it. Me and others, we come from the surrounding provinces. We have this outside perspective that allows us to see the city from a different perspective.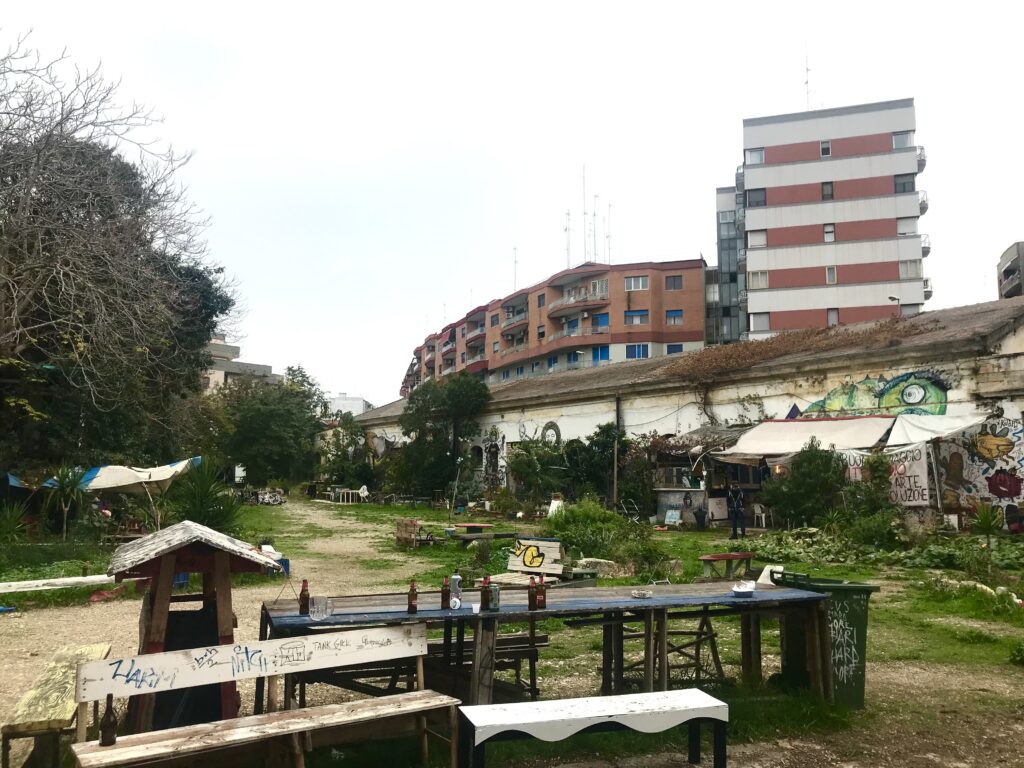 Why the people who brought this place to life doesn't come straighlty from Bari ?
When you come from a city, the social center is next to you, and you just have to decide whether you want to get there or not. When you come from the countryside, you dream of having a place like this. That's why we gave a lot to make it. Sometimes you only realize how lucky you are when you lose things. It is a terrible reality.
During the opening, did you have to deal with the local mafia?
Yes, we actually had to deal with this problem. The first years, we had deal problems. There were a lot of fights over that. It's southern Italy. Everything depends on your ability to negotiate, with the people of the neighborhood. If you're outside from the mafia, you don't have your word. It's abysmal.
It's a little shameful to say, but we relied on intermediaries from the same sphere and who speak the same language. In short, important people in the neighborhood stepped in to defend our project.
We have to be realistic. There is not only political logic, there is also the street logic. We see those people every day, in bars and in everyday life. At some point, by dint of seeing each others, there was a mutual recognition. Here it is a very popular district. The punks made it well.
AHow do you organize yourself to make decisions within the social center? What is your common political point of view?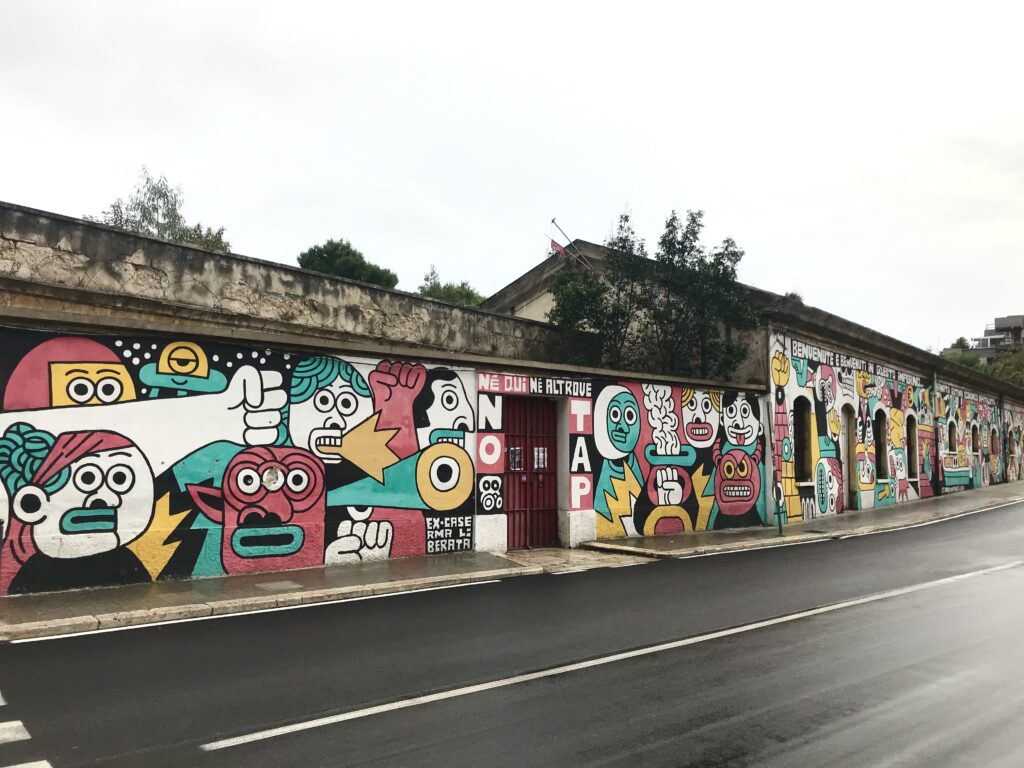 The best way to answer this question is to talk about humility. Here, it's not Rome, Turin or Bologna because we are a very few. Autonomous, punks, and skinheads must walk together.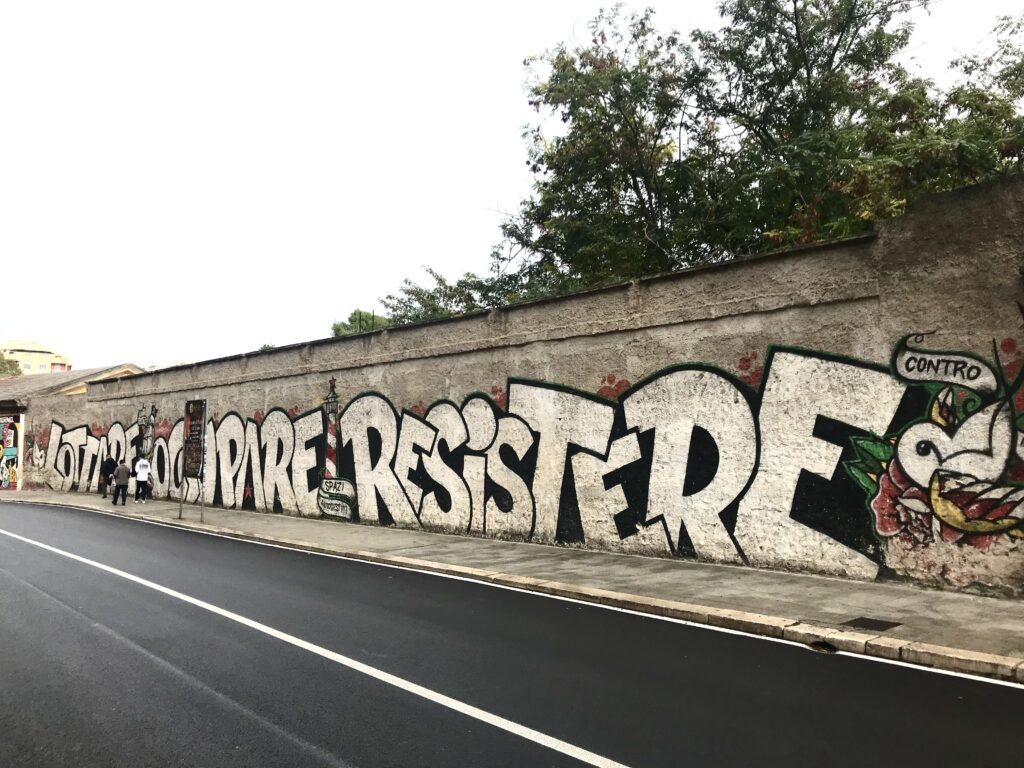 We often put our political differences aside, whether anarchist or communist. If we hadn't thought like that, this place would never have existed.
We know we have differences, but we want to do things together. It is the most important. Overall, the political rule of this place is anti-fascism.
You make food distributions for the refugees. How does the police react to this kind of actions?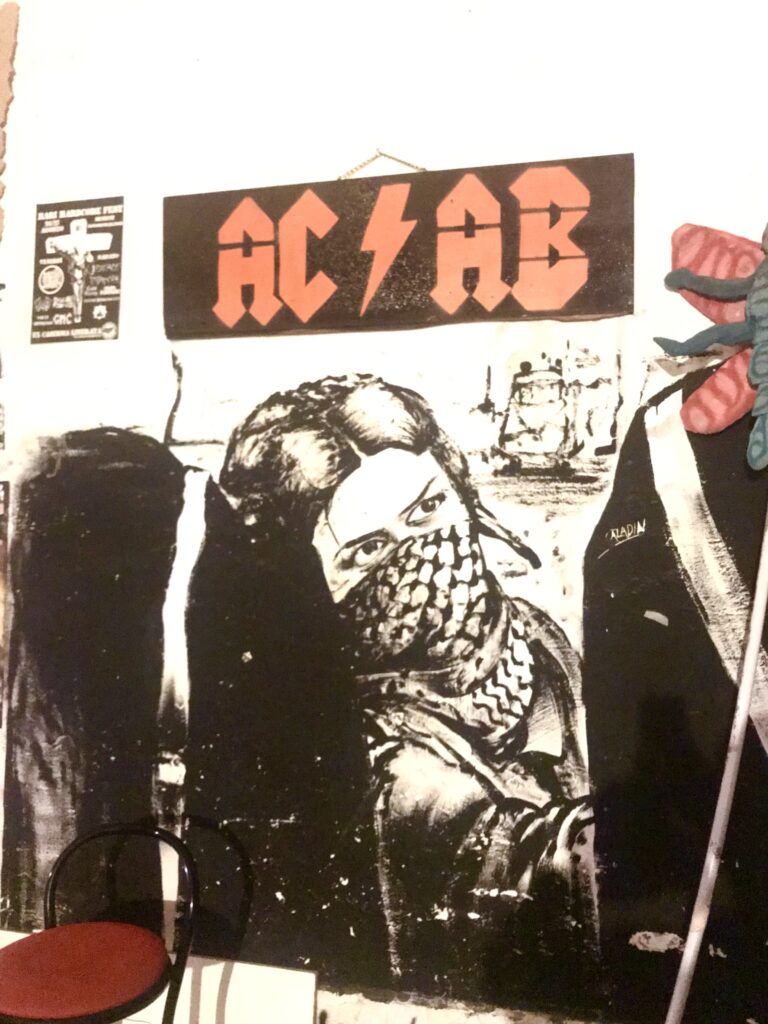 They didn't like it but they let us do it. We were in covid red zone. As we could no longer do concerts, we focused on the primary needs that people might have. The fact of distributing meals made us much more involved into the neighborhood life.

We met lots of new people. People were starving, and on top of that were scared. The need was huge. We still had to handle some conflicts. For example, some Italians wanted to pass in front of the migrants during the distribution.

They were real troubles.

Let's talk a bit about yourself. You come from the city of Andria. How did you discover punk?
Punk had its history in Andria. Many self-managed spaces existed at the time. The early punks did a huge work to attract bands. I was going to these places to meet new people and smoke… that kind of stuff.

And then, the older ones invited me to the concerts. I saw one, and I fell into it! Here, the mentality is much more borderline than in Bari. We set up ephemeral TAZ (Temporary Autonomous Zone) to organize parties for example. The reality is that today, young people are drastically leaving town. In particular to France for season's working.
What was your motivation to start your punk band Antidigos? Did you have any role models?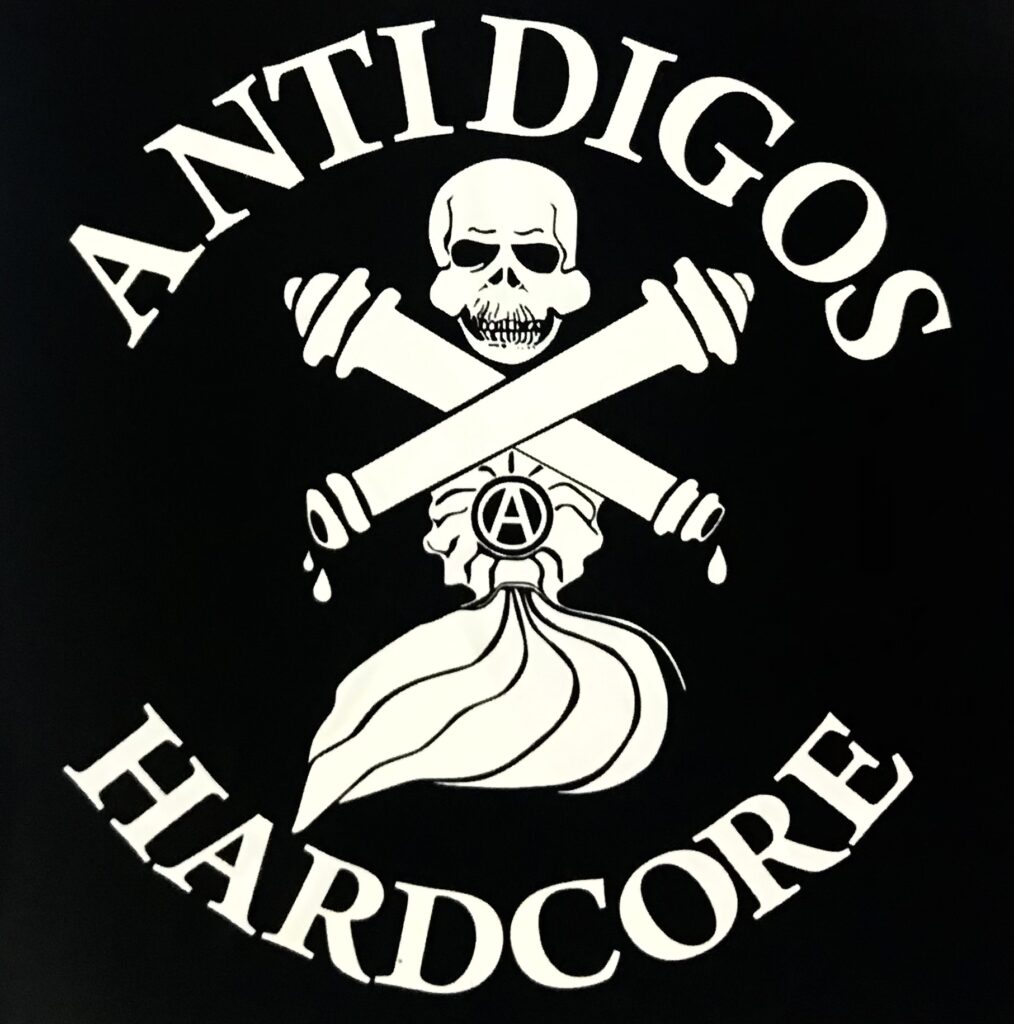 When I was a kid, I always went down to concerts. I was already starting to write. I had this passion for the microphone, even though I couldn't sing (and still do!).
For me the political messages were much important. I did my education in self-managed places, between music and politics. One day I took the mic for a jam session. My friends liked it and they encouraged me.
I was in Rome in 2011. Stefania from the band Cloaca Maxima helped me a lot to improve my singing. In 2013 I went to London, and punk became my drug. When I came back, we started to occupy the Caserma. Among motivated friends, we formed Antidigos. I am now the only original member. We renewed the line-up to bring the project to life. It's a family. When you start touring, you can't see the band otherwise.
It's a family. When you start touring, you can't see the band otherwise.
What means « Antidigos » ?
In Italy « digos » is an undercover cop unit who takes pictures during demonstrations. This is the most dangerous police we know. As we had a lot of trouble with them on the street in Bari, we spontaneously chose this name.

What do you think about the DIY Italian punk scene ?
First of all, I need to clarify things. In Italy, you have the northern scene and the southern scene. In the south, I find that the political side is a little more assertive. This is not a value judgment, the experiences I had in the north were great. One thing is certain…it will never be Berlin here!
In Italy, traditions still persist. There is still a lot of work to do. Especially in the south, when you arrive from a punk concert you are really looked like a crazy person.

What's the future for the Caserma?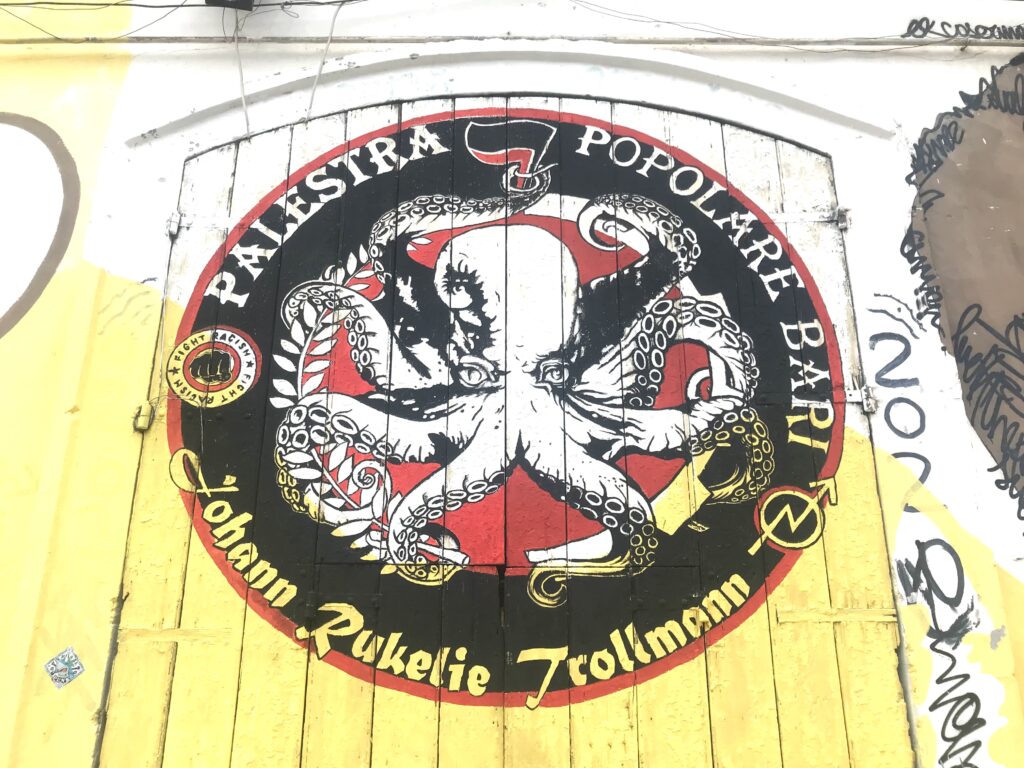 Unfortunately, this space will become the next Arts Academy in two years. We are thinking about inhabit other buildings built around the place. We are trying to see the best way to arrange them. The Town Hall said that they do not want to evict us, but the economic stakes are huge.
Standing up against a cultural project, here in Bari, clearly not easy. The Town Hall wanted to build us a building and leave it to us, but we refused. We prefer occupy existing buildings by ourselves.
So we stay. We'll see what will happen. Maybe we'll get on the roof to resist!