His music may have haunted us, but Filmmaker remained an enigma. Very discreet, the Colombian producer gratified us with albums, each one more excellent than the other since the Visceral project: no less than 14 projects in 2 years !!! Oscillating between techno, EBM, coldwave and synth-punk, his musical universe is declined in different forms in each album (just like his visuals, which he produces himself). DIY handicraft the way we like it. Filmmaker gave us one of his very first interview! | Interview by Polka B. / Trad : Alkistis A.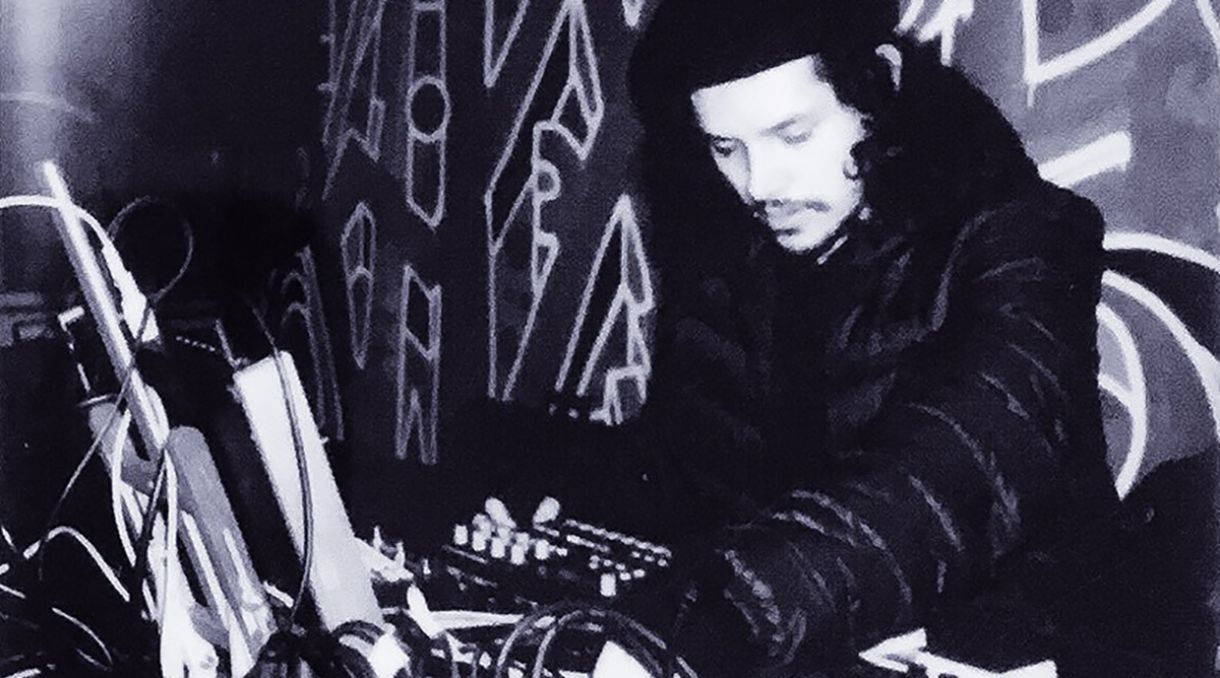 What first got you into music? Did you start composing with instruments or directly with machines ?
Filmmaker : I started with instruments, mostly strings (guitar, bass, violin) in bands. Later when i started producing solo i got into synthesizers, etc.
During your childhood, what was your musical culture ? What were you listening to ?
Mostly punk culture, i was listening to some hardcore, d-beat and crust punk.
In Europe generally, people don't know much about the electro culture in Colombia. Can you explain to us the features of the underground scene ?
I can't explain it as i don't know it and don't even feel myself as part of it, sorry. For me there are no "scenes" there. In my experience i've perceived very few techno collectives doing things, mostly DJs with endogamic and arrogant behavior who prioritize social capital and image over music. Talking specifically about Electro, i can only say that the best stuff i've known in Colombia are from outsider producers who aren't very active in the so-called Colombian underground scene, i think they recently are on their way to construct some culture.
Is the EBM electronic scene (synthpunk, darkwave, industrial…) active in Medellin ? And you, personnaly, how did you discover this music ?
Like the previous answer, I don't feel part of that scene neither so i know very few things. From what i've noticed, it's actually still new born and it's growing connected to the techno movements. In the past year they brought international artists like Petra Flurr & 89st, Sarin, December, Terence Fixmer and so on. The local artists of that genres are still emerging. In Colombia in general, i think it's more developed in Bogotá, as it's a bigger city there are more artists making that kind of stuff, even labels, like Pildoras Tapes, Black Leather Records and Analogue Texture Records. I've discovered that kind of music digging on Discogs and learning history from related electronic movements like the Belgian New Beat and Industrial Techno.
What was your sources of inspiration ? Do you listen english goth ?
I think i'm more from No Wave and Krautrock. Another sources of inspiration are artists like Swans, Can, Nurse With Wound, Coil, Muslimgauze, Genesis P-Orridge, Dean Blunt and Lil Ugly Mane.
I see you are very prolific since the project Nocturnal was released in march 2019, at the rate of one album every one month ! Is this crazy rythm due to a new point of view ? A more « efficient » way ?
The production rhythm is because death pulsations, i just want to approach my time doing what i want before it's too late. I know i'm not a perfectionist but i prefer to not wait for release and go with the flow to get unexpected results.
A friend of mine who is also a producer wanted to know your workflow. Can you tell me about your tools ?
Every album is recorded with different tools. Some were made with iPad apps, others only with the Elektron Analog Rytm, others only with the Synthstrom Deluge, sometimes paired with other synths and a guitar. My workflow is similar to live performing so most of them are one-take recordings on tape, some were multi-tracked for further editing, others were just the full stereo mix. I like to try different setups for the live act as well, the list includes the Octatrack, Toraiz SP-16, and the Empress Zoia for fx, filtering, compression and looping.
The artwork of your covers is fascinating, espacially the engraving reproductions. Did you make yourself these illustrations ?
As it says on the credits of almost every release, yes. Sometimes these drawings are guiding my artistic direction. Sometimes, the music came first then the artwork.
Your first albums seem to be more influenced by minimal techno, while your recent projects sound darker, industrial and « tribal » (Dimensional). Do you want to progress towards this direction in the future ?
I think this year that might be the main direction but in the future there's more minimal synth and post-punk stuff coming.
You are touring a lot abroad (lately in Australia and New-Zealand). Is it easier for you to play outside Latin America ?
It's farther and harder with the visa's question but for booking and feedback it has been easier for me.
In Colombia, can you play your music in a club context ? Is it simpler for you in bars, or in a concert format ?
I've played mostly in clubs overseas and in Colombia. Few times it has been for a concert with bands on the line up and i've adapted my set and performance for it too. My live sound has been flexible as some of the events.
Did you plan on playing in France ? Do you have contact there ?
Yes, when this pandemic situation permits it, i'll tour and might play again in Paris. I've got several contacts, one is OKVLT, the label which released my recent tape Dimensional.
What are your goals for the project Filmmaker ?
I'm going without expectations but i would like to actually make a film or scoring one. Scoring a videogame would be interesting as well. Maybe a further goal would be to own a record label.
What is your last word ? Can you suggest us a track you love listening to ?
Support & help artists through this current lockdown. A track i've been listening to lately is « Dramamine » by Baroque.