When we met Arnaud at our friends' house in Vlaar, we realized it wasn't the first time we stumbled upon his illustrative work. Very productive, the artist from the Vosges has been working on a bunch of DIY punk album covers from eastern France! As his pieces are as beautiful as they are disturbing, we absolutely loved it. | Interview by Polka B. – Translated by Momo Tus
In terms of aesthetics, you always have been attracted by the strange and the fantastic … What were your references when you were a child?
AS.M : I was already drawing skeletons when I was in elementary school. It was making me laugh… Everything macabre, mysterious and dark makes me tick. When I was a teenager, I was spending my days watching horror movies. As soon as the parents were gone, we were watching the worst ones!
You are also a big fan of extreme music genres. How did you make the connection with your drawing style?
First, the covers. I discovered Metal when I was younger, and I observed a kind of consistency. The Iron Maiden zombies fascinated me… The Megadeth covers too. Then I discovered Slayer. Through Death Metal, I really found again the gory aesthetic of my favorite movies.
You come from eastern France where the Crust and Grindcore scenes are very active. You made quite a few album covers by the way. Can you name some groups and associations for those who do not know?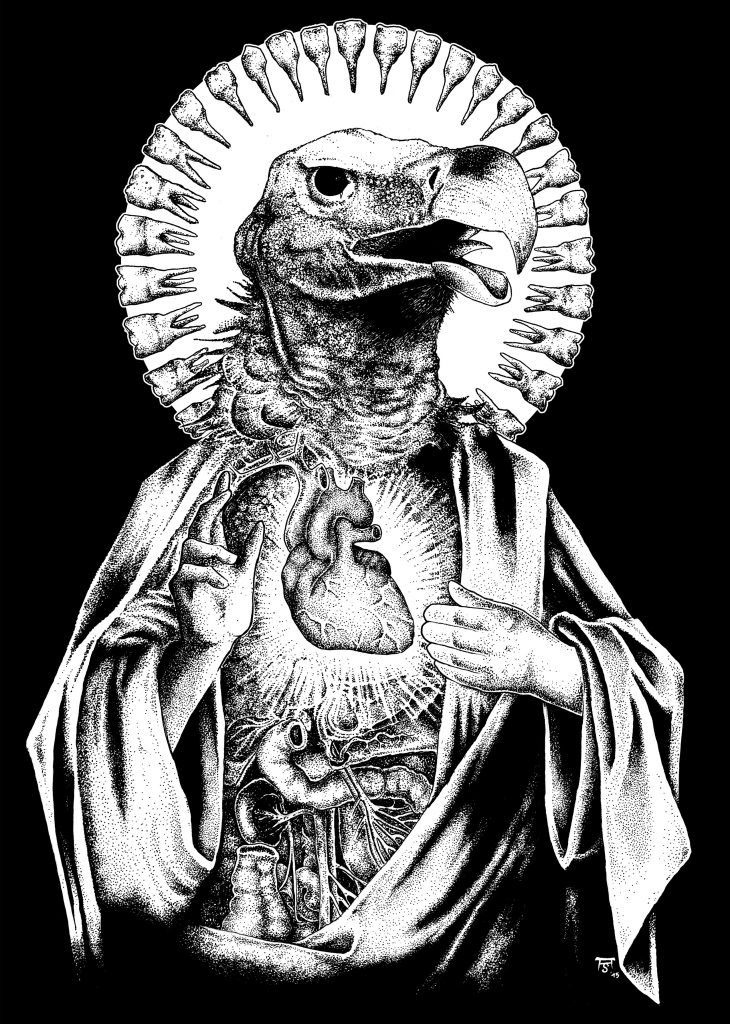 In the Vosges there is the Crustatombe association with the Doomsisters group. There is also Lupus Ad Mortem. In Nancy, Blockheads really got the scene moving at the time. In Besançon there is the whole Whoresnation team, Xaros, and the former groups Black Code, Human Compost… Whose a few members are now playing in Vaar.
The Crustatombe association organizes the Antinational Fest in the Vosges every year. It's a DIY punk festival (hardcore, crust, grindcore …) which advocates autonomy and acts of defiance against any form of state violence. People are super open-minded and welcoming. Stands, small exhibitions, screenings of committed documentaries… In short, go ahead!
As for your artworks, your style is quite recognizable. However, you seem to be able to change your style depending on the requests, don't you?
It's true, I really like experimenting. Actually, I'm not afraid to borrow ideas from others, even if it means exploring other drawing styles. When I stumble upon some artworks that I like a lot, I use them as inspiration to then create my own blending. For me, the choices leading to a particular drawing style are quite logical. When someone asks for something specific, I immediately know which technique or which pen to use.
---
You make more and more artworks using the "dot" technique, which uses small dots to create nuances.
I started doing it because I really wanted to test silk screen printing. This printing technique is brilliant. It's handcrafted, that's all I love! All the more so the blacks are very deep so it goes very well with my style.

The problem with screen printing though is that there are no nuances. You can do it by cheating a bit, but you'll never create real gradients. As such, I had no choice, I had to do lots of little dots to create my shades. But I did not use the dot for technical reasons. I've always loved black and white tattoos and crust sleeves that were clearly following this trend. It's a technique that takes time but I don't mind, on the contrary.

It is important for me to spend hours on my drawings. I am building every artwork gradually. I see it taking shape gradually. It's almost like a supernatural feeling. I am in admiration, completely disconnected from my surroundings and I love it. At the end, you can see the time you have spent on an artwork. It gives an extra dimension. It's a bit the same spirit than the engraving.
Last year, you illustrated poems by poet Bob Leman ("Welcome to Sturkeyville"). What did you like about her world?
I love reading horror books and fantastic stories in general. I started working on artworks for books back in 2012 for some authors – who were actually my friends. Among our writers group, we have released a lot of books. Bob Leman's text took me a step further because it was something quite "pro" and ambitious. Scylla editions really do a great job around "books-objects". I found myself perfectly in line with the universe of Leman. It's a little horrifying, very mysterious, in a small American town … There is an atmosphere that can remind you of Stephen King, Twin Peaks, Lovecraft …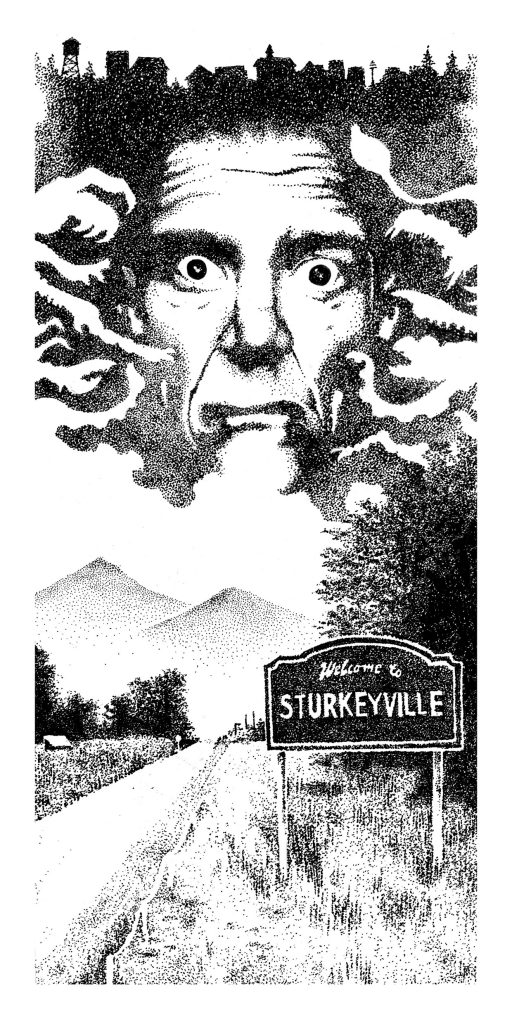 ---
You draw a lot of animals!
It is true! I can"t explain why… I am frequently discovering strange creatures. When you are interested in zoology, it's quite impressive. I like this connection with nature. It really develops my imagination.
---
Can you tell us about your latest series of Têtes Brûlées drawings?
It is a collection of 14 drawings using the dots technique. I worked on this series on my lunch break at work. I drew broken faces, burnt faces, healed skins… As these are very small formats, I decided to make little fanzines from it, binded with staples. I screen printed fifty copies at Sylvain's workshop, Circle Print, and I really enjoyed the result.
---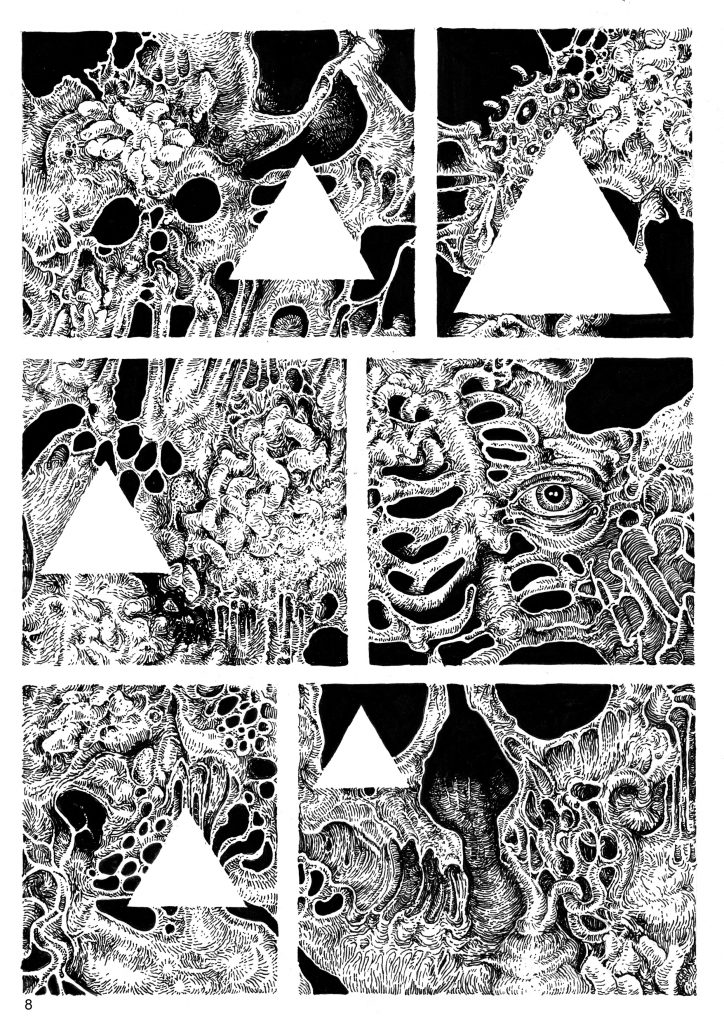 What about the future?
Recently, I drawed a lot of insect heads …

At the same time, I discovered new inks. Consequently, I'm thinking of going back to engraving.

As one idea replaces another, I am trying something else and it gives birth to a small zine or poster!
Can you give us representative tune of your state of mind ?
« Vinum Sabbathi » of Electric Wizard !