One of the pioneers of radical anti-facism amongst the punk and skinhead culture since 1995, Brigada Flores Magon took back the weapons ! After a more than ten years hiatus, the parisian band is coming back with a new album named « Immortels ».
For the record release, we met in Toulouse with the two « historical » ones (Mateo et Julien) and three good fellows (Laurent, Arnaud et Goose) making the actual line-up of Brigada.
| By Polka B. / Translated by Nino Futur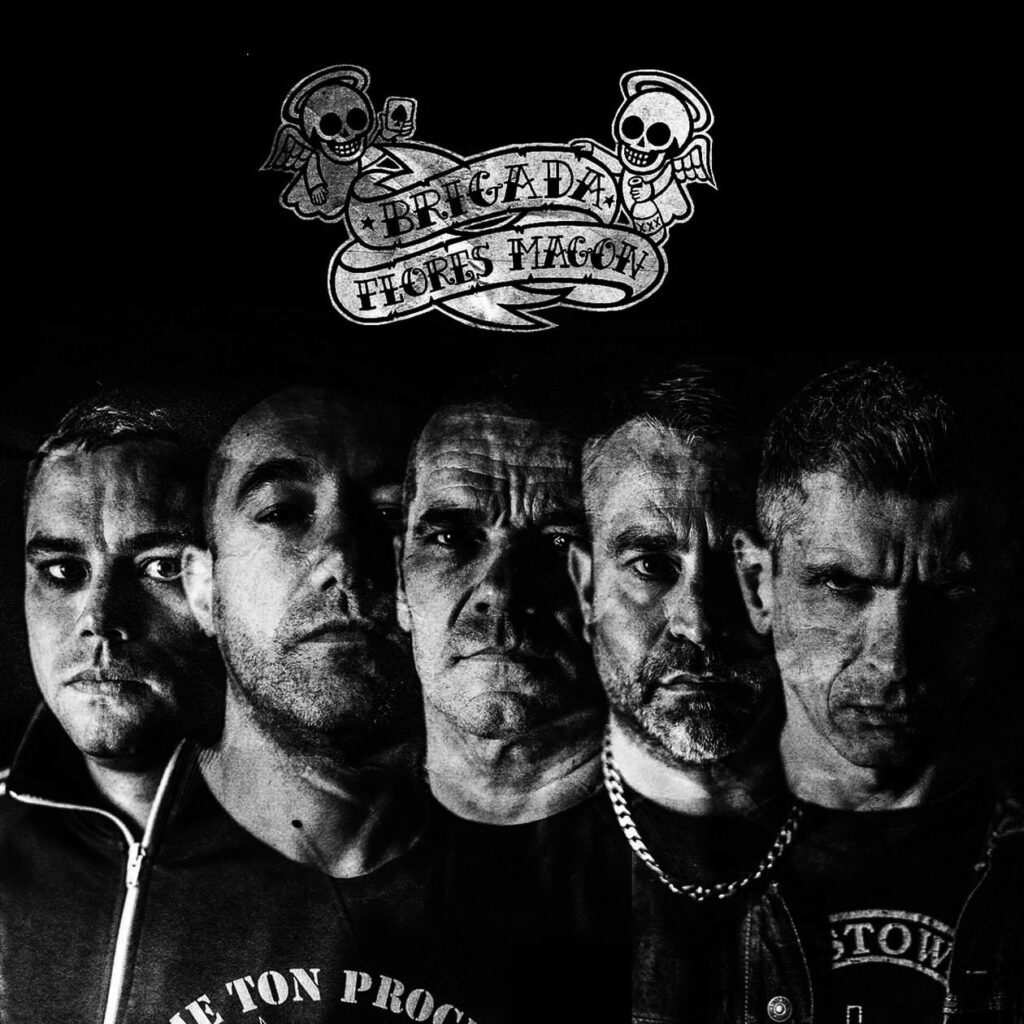 You are releasing your new album Immortels after long years of inacticity. But in anotherwise seems like you are playing alot live since 2021, in France and outside… What happened to the BFM to comeback like this in the game of alternative music?

Julien : It's no easy to go the distance amongst this scene. Conditions are often « hardcore », and for a band with more than 600 concerts, it's tiring! At some point, we wanted to put priorities on our personal lives, because we never wanted to go profesional musicians. And Mateo had twin childs !

But anyway, we never used the « disband » term for Brigada…

Mateo : We made a « last show » in 2010.It was a occasion to reunite everybody. 4 years later, the Banda Bassotti's manager calls us, and here we go for Italy. Same thing with Bull Brigade who invites us to play in London with the Brixton Cats. We made couple of gigs in 2016 too..

Good shows, but no band dynamic aside. No novelty…
Julien : Life's changing! Kids, work…If you have to play for an hour and quarter, and you didn't play for five years, you will have to do at least fifteen rehearsals to be efficient.We all live in different cities, so, it was a huge logisitic. All this work for only three gigs, it makes no sense. So we wanted to pull out a tour for the 20th anniversary of our first album.To have an efficient band, we called Arnaud (ex- Bolchoï), and Goose for guitars (ex- The Decline !) Laurent for bass (ex- Ya Basta, Tulamort).
They're all old-time friends who made replacements by the past. Brigada, is a political group but also affinities. Enrolling an unknown person, it's no way.By the time the line-up changes gave a new air. And then covid arrived. We worked alot on this tour, it was impossible to stay like this! By dint of playing, we ended up with a dozen more songs! .
Mateo : Brigada's a proteiform collective.And seems like everything's goes well between us.
Julien : Our only wage is fun !We do not own money from this band. And if one day I wonder what am I doing… I quit. But actually I'm 53 so…
Arnaud : We have the same relation as 20 years ago.We know why we're here and why we like each others.There's one obvious thing, we're not only linked by music and partying. It's overall a political vision.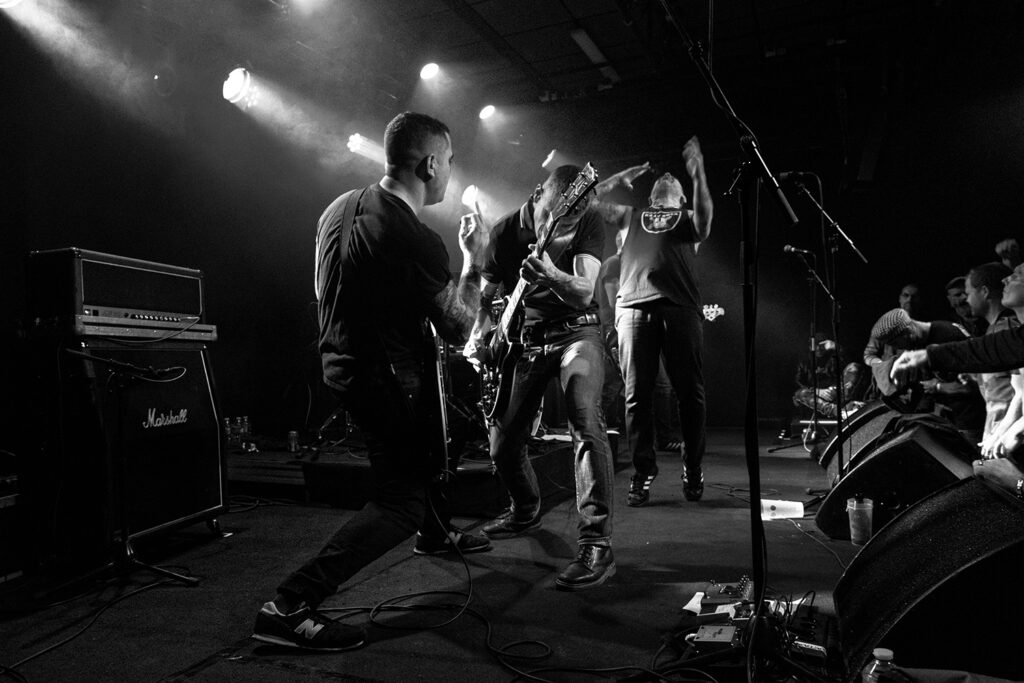 Especially since today in France, there are no longer as many politicized bands as at the end of the 90's…
Laurent : Clearly. At the times, antifacist speech and acts were more proiminent into music. Now, the situation is going bad and I think the scene's a little bit shy.
Mateo : Even if our lives changed and that it impacted our involvement in the movement, our ideas did not move from an inch. Our analysis might be a little bit different because times changed. But the problem stayed the same ! Brigada was born into a CNT local.We we're talking about our lives. Brigada stays something political..
Julien :When we decided that we wanted to make « antifascist oi», people were looking at us with owl's eyes ! the scene was full of fascists..
Mateo : We were not playing « alternative rock »…we were skinheads overall !

Julien : But antifacists. And known for this ! Not so clearly apparently,because sometimes people were thinking they were at the wrong show ! (Laughs) At the beginning we didn't finished alot of gigs…always going into a general fight. It was more than music. People were not coming only for a band , we we're heading the RASH Paris, we had a fanzine « Barricata »… lot of things around it.
You had a political revendication only coming into a show. For me it's the substance of punk rock. A global movement. Considering only music for music's sake is not very interesting.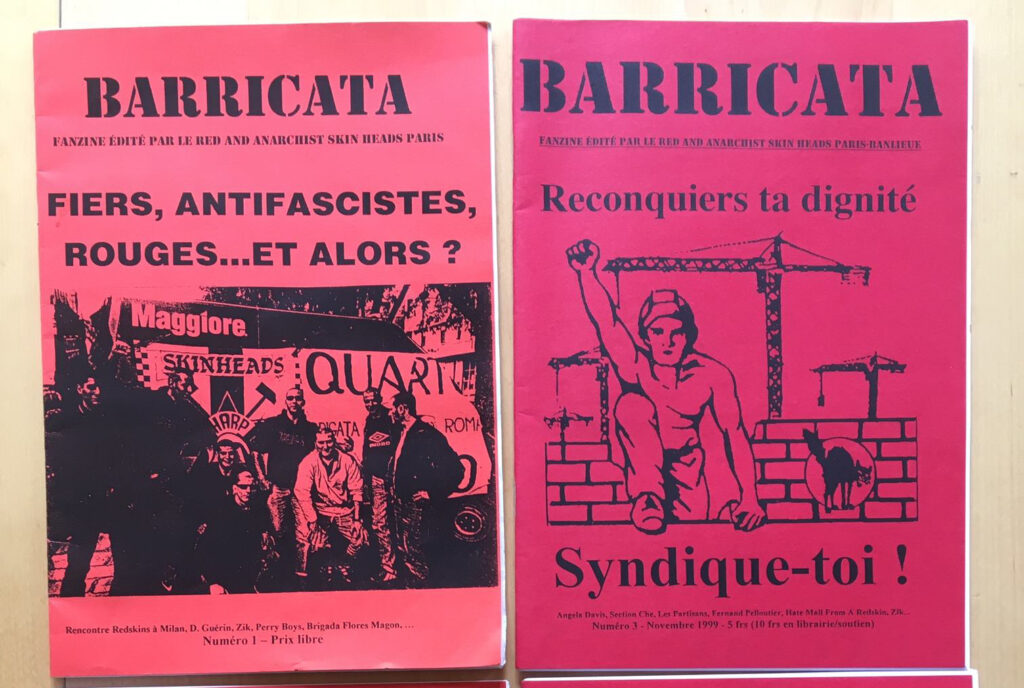 Why do you think it's the most apolitical bands that tour the most in the French punk scene?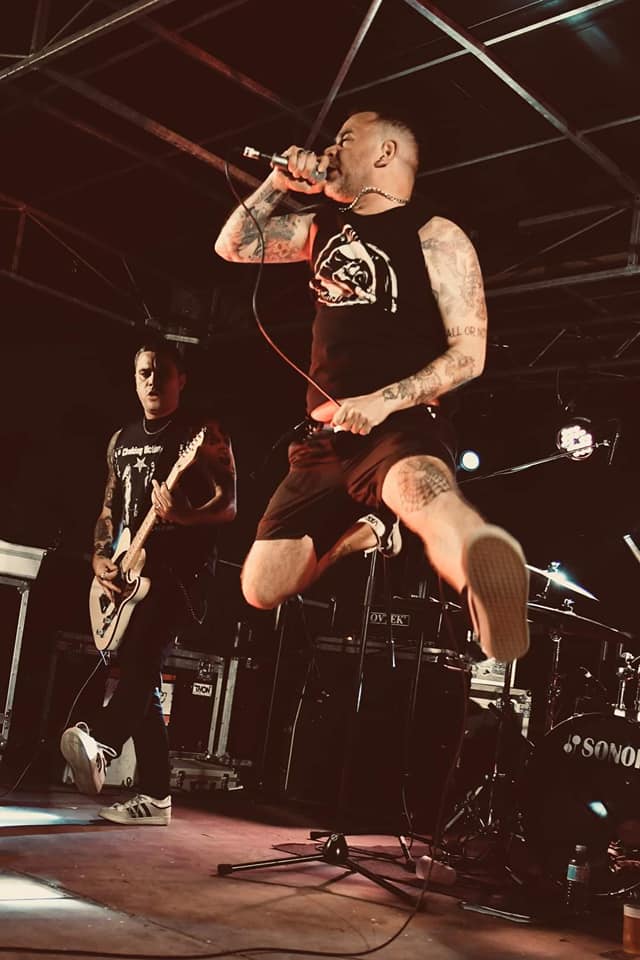 Mateo : It's market economy. Guys figure out there is money to be made. It's obvious that nobody want to make buisness with persons screaming about how they don't want this. And even less talking about politics !
Laurent : There are consensuals and,sanitized bands made to be pleasants.
Julien : It's over the punk scene. It's our world. The one who makes the biggest audience in France is Hanouna.What can I say ? We say a lot of bullshit while hiding the questions that annoy. Oi bands nowadays are no « apolitical »… they are « no-politics» !

The guy next to you in the audience might have voted Zemmour,but anyway he payed his ticket.And everybody drink beers.We have have the opposite positioning since the beginning.We do what we do we do what we say. The first ones who were ready for fights, they were from the band !

Mateo : We were talking about strikes and south america because we lived it! The songs did not transcribe our daily life to the letter, but about those subjects, we had a credibility.
As a band, our ambition was to create some meeting spaces for people.We wanted to extend the network. Many bands have appeared in our wake because they met in one of our concert. Like in « la Flèche d'Or » (A very famous political meeting space in Paris -ed) . We wanted to synthesize things, to be the echo chamber of a movement.Which wasn't existing in France by the times.
Julien : Except The Oppressed, there was no oi bands strictly antifascist in 1995. At least to my knowledge ! Our band made a scene. On the early 2000's,there were dynamics. There's no secret!When you have a potential audience,people want to create bands.And we contributed to this to start with clean basics. They had the merit of being very clear, and unequivocal.
Arnaud : I lived this from Toulouse, as an alternative rock kid. We wanted to have fun playing rock and roll and being offensive.

Crews were appearing from Toulouse to Bordeaux under the « redskin » label. Couple years later, the RASH Paris federated those teams.
When you founded Brigada, were you concious of those issues ? Of your hability to gather further than music ?
Mateo : Clearly not! To recontextualize, our fisrt line-upwas unlikely !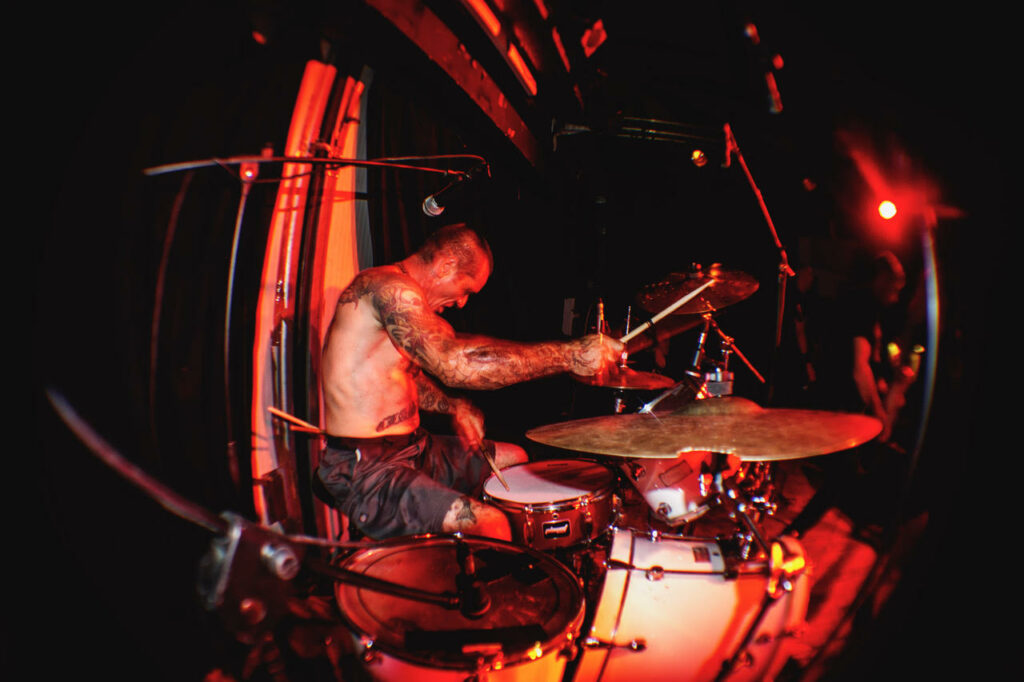 I'm middle-sized, Victor with his mexican face too. We had Raymonde at bass, and also a two meters high guy at guitar ! (Laughs) Completely unlikely !You had two choices :laughing about it, or undertaking it. We chose the second option. I was a skinhead wearing Cuba's flag shirt !

Julien : When people saw us coming, we we're seen as aliens ! We cultivated it thoroughly and it was funny. A magazine was interested by us to have a song for a compilation sold in newsstands.They were struggling to find correct oi. They might think that we were corresponding to what they were searching. (Laughs) We gave them « RASH » !

All the others apolitical bands might be pissed to have their songs beside of our .The guy from the magazine was shocked. But what is shocking ? For us, it was all or nothing.
Mateo : People were calling us « Reds », it means alot… It's a populist right wing word which concentrates all the disgust we inspire to them.

Julien : We were more « Black » than « Red »…
Mateo : When people were trying to justify their weird band shirts, they were talking about « provocation ». But you'll never see them with a Fidel Castro shirt, even by provocation ! Anyway, we stopped the skinhead scene for going round in circles. Even today, some must have attacks of eczema seeing that we're always here! (Laughs)
Julien : We were no marketing antifas.When we had to fight, we had to.

At the level of the anti-fascist music scene, what can we say about the « after Brigada » ? Seems like the next generation didn't necesary took over, lack of leaders or marks to keep this going…
Julien : …You're pointing a sensitive point. When our personal lives took over the band, we took a retreat.Technically everything stopped two years after. I find it a little unhealthy that everything only fits on a single entity …
Laurent : To nuance a little: Brigada were big headliners into the antifascist scene. Some other bands played alot in many places.But the truth is, people doesn't move to see smaller bands. A generation passed. It's all cyclic !
Arnaud : RASH gathered many people with different ambitions.Some for the politic, some for other things… It's true, there was a transmission problem.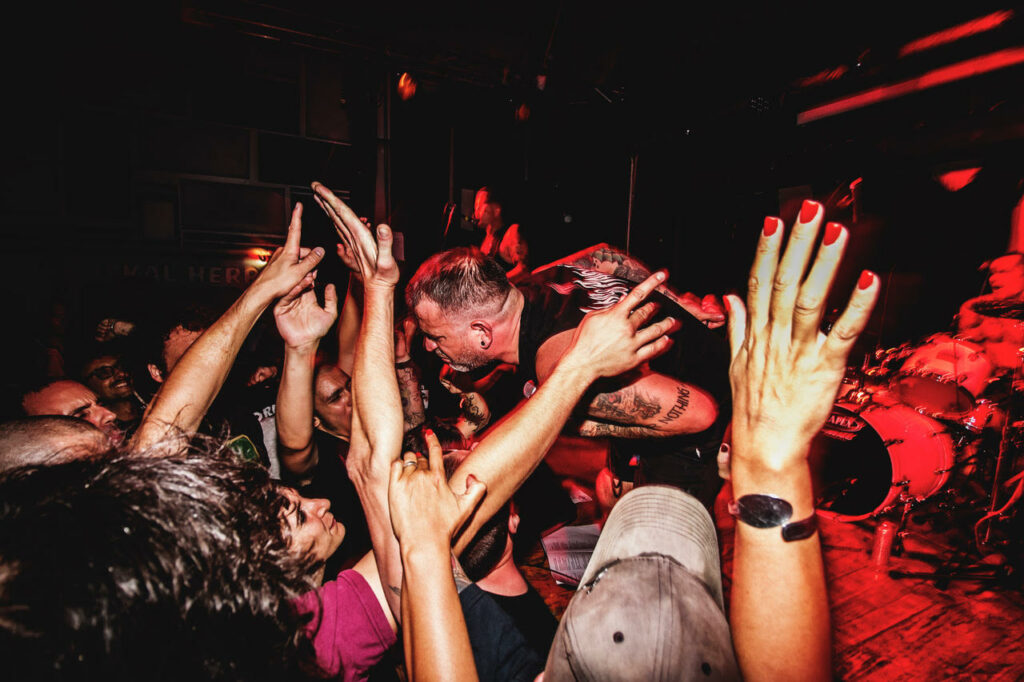 Julien : We were doing everything. It was the problem. A fanzine, gigs organisation,playing concerts... In spite of ourselves, we have accustomed people for being consumers.They come to the shows and everything's here.
Mateo : To talk about our fanzine Barricata,we tried to form younger people to include them into it.Everything was ready for a continuation… But inexplicably, no one took up the torch and everything stopped in 2010.
Julien : How sad. When I see how society's evolving, I tell myself that now is the time to do what we did twenty years ago.
By your time, the dress codes were clear enough to identify the fascists. Nowadays it changed : casual looks and sportswear are everywhere whatever your political side…
Mateo : Nowadays,the fascist is your neighbour, your co-worker. Here's the danger. We reach the summum of far right.

Laurent :Even Le Pen have been exceed !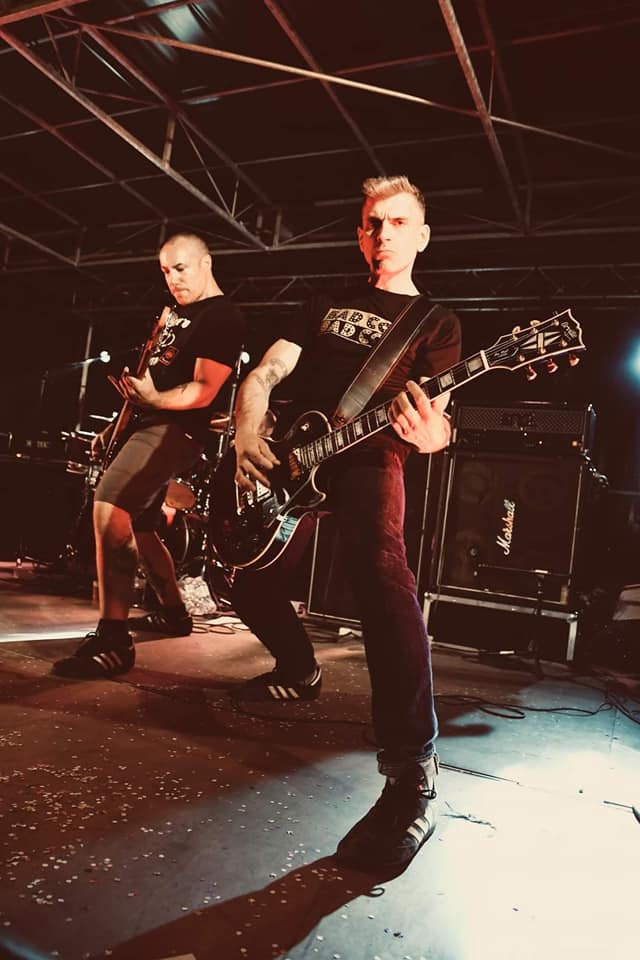 Julien : By the times, boneheads were not a real political danger…The physical danger was imminent in some cases,but it has no repercussions. The identity politics are more dangerous because it fits to the masses.They are real and active militants.The more efficient persons are the most inconspicuous.They fit sinto every kind of right wing programs. And their dress code cover the tracks, for sure. Nothing's more similar than casual fascists facings casual antifascists!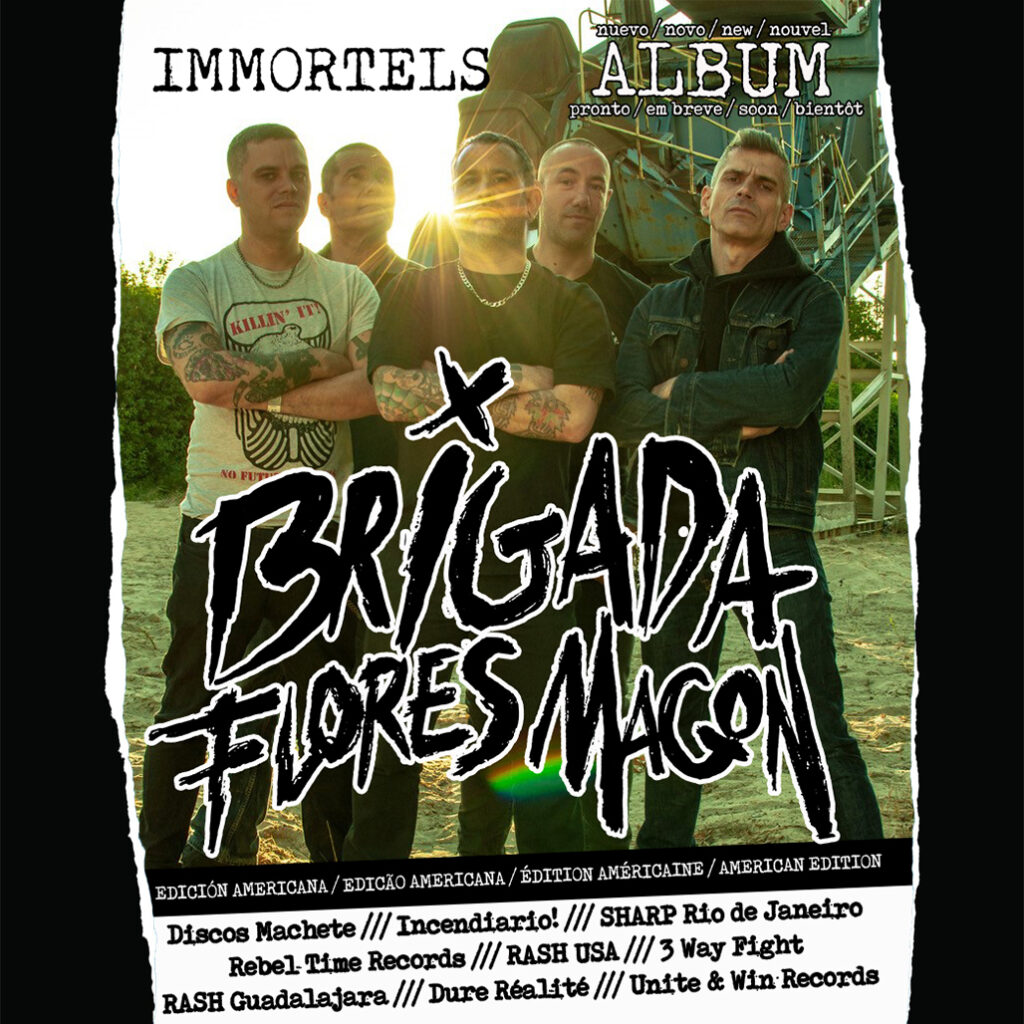 Is it a topic of the new album ?
Mateo : Sort of! It is important to evolve. Our first lyrics were pretty… « obvious ».
Julien : I would say caricatural. But we were young with a will of asserting things !
Mateo : We also talk about migrants, demonstrations…It's hard to juge by yourself.Let's be honest : Brigada's a recipe.We cannot go in a completely different direction.
Your albums seems a little different from one to others…
Goose : The challenge always remains the same from one album to another: Keeping the musical features of the band whithout repeating ourselves.
Mateo : Big choruses, gimmicks, and a rock'n'roll bass !!