Roberta in « real life », is an illustrator from Bologna, though her drawings she turns into JOE1 . Very personal compositions telling a lot about her experiences and point of view. Graphically inspired by the manga culture but also Tank Girl, with a soundtrack wavering between Italian hardcore punk, federating oi ! chants and post-punk balads.

You'll understand quickly, entering the JOE1 universe, it's also meeting Roberta.

Thanks again for the magnificent cover art for this issue !
| Written by Polka B. – Translated by Nino Futur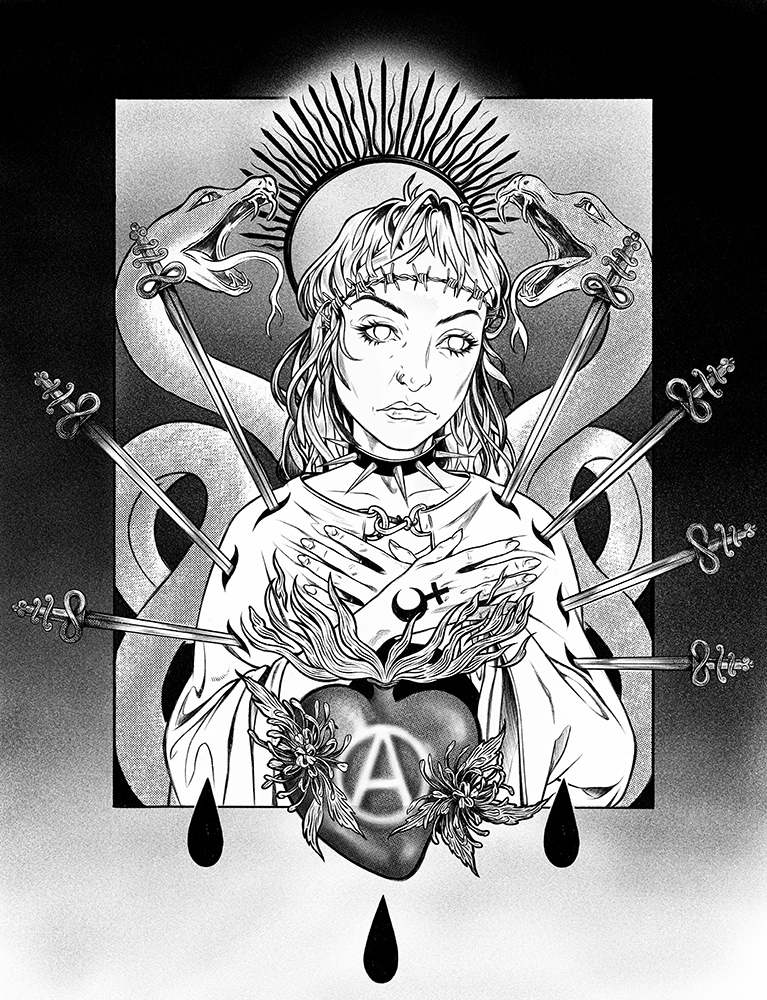 Can you introduce yourself briefly ? How would you define yourself as an artist?
Hi! I'm Roberta, I draw, love, hate, party and hurt myself.

I've never seen myself as an artist, and I truly don't consider my drawings as works of art as well.

The most "artsy" thing about me is being a complete mess of a person and living with very few money (sigh).
But they're just drawings, lucky them, let them just be silly, fearless stains of ink. Protected from definitions and ambitions.

Why did you chose this nickname  «  JOE1 »?
Back in high school my friends and I decided that all the boys were named Johnny and all the girls Josephine. So we all become Joe at a point (laughs). We're all Italians so it was like: GIÒ GIÒ GIÒ.
Most stupid story ever told, I know, but so it is. Then I added the 1 because of « Joe1 » a song by Fugazi.
Way cooler, uh? Little big genius here.
Your influences seems various. You seem really marked by comic-books, but also with punk culture. Can you talk about your inspirations ? What do you like to listen/Watch/Read ?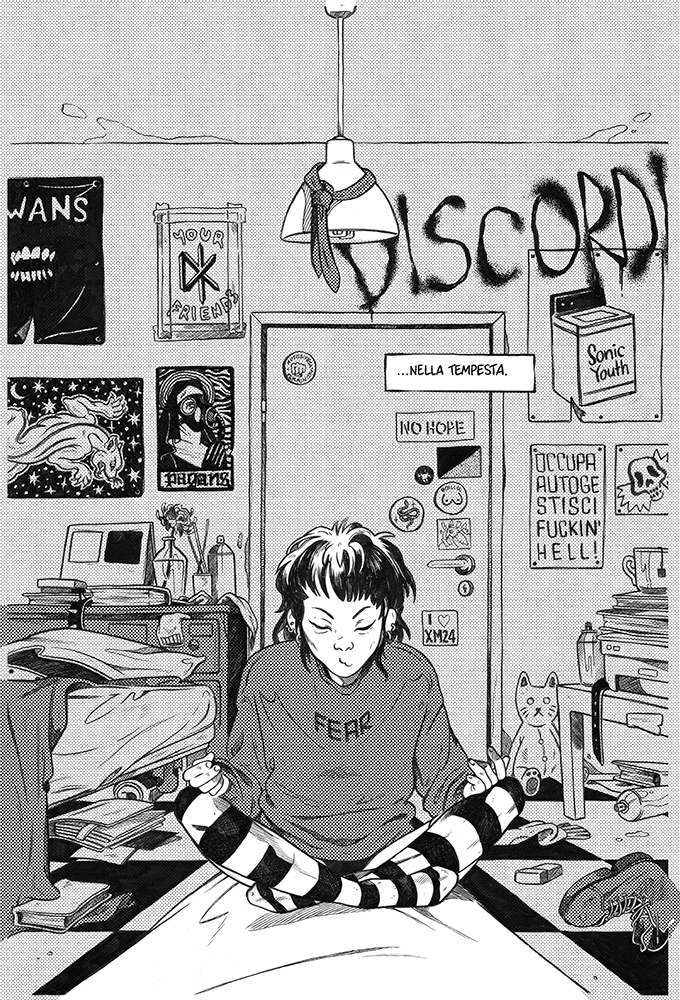 I'm not so much into comic-books as it could seems. I basically don't read comic books.

I'm 100% sure that comic language is amazing, but comic books (and comic artists) bores me to death. 
I prefer mangas, crazy ideas, crazy technics, Japanese dot it differently and better, but sometimes the industry costs them life so screw it. 

But I do love old stuff such as Tank Girl, Andrea Pazienza's production and in general whatever arrives from the deep dirty waters of underground scene.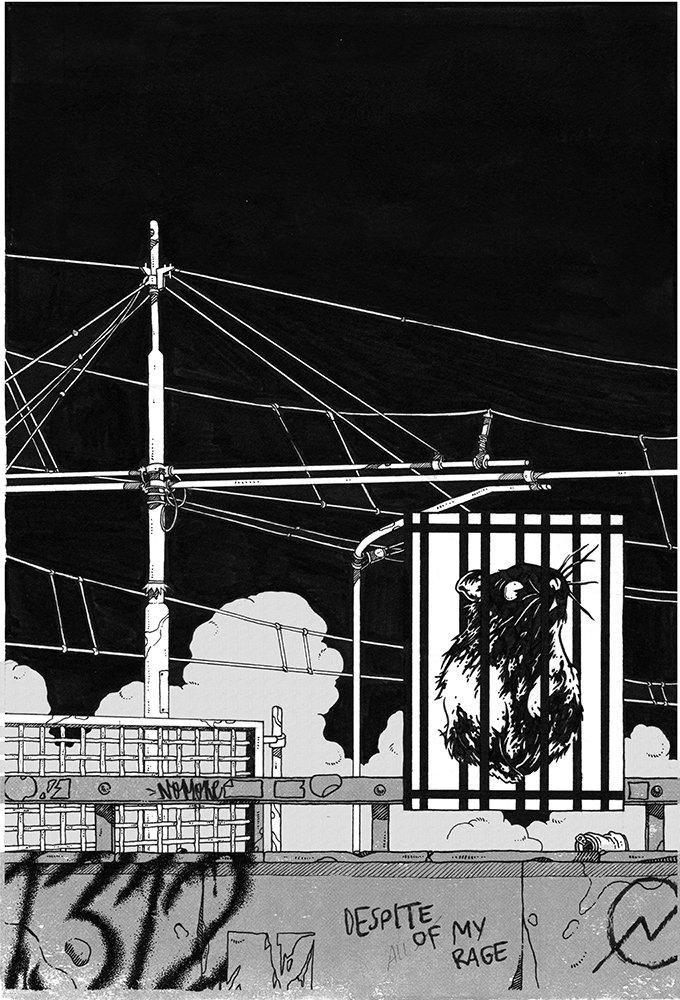 And I like what is done by my friends! But most of the time it's just because I love the scene itself, and my friends, obviously.

Punk truly is the only political/cultural/artistic reality that matters to me. I'm not a punk, I lack in courage, but punk attitude is the only thing that still moves me. The only truth.

Above all, I listen to Italian punk hardcore, Oi! and skin bands, such as: Skruigners, Bellicosi, Sempre Peggio, Sud Disorder, Call the Cops, Intothebaobab, Raw Power, Negazione, Contrasto and so on.
Love them all to the bones. Go to concert all the time. And if It's not punk HC, it's british post-punk, American post hardcore or Italian '70/'80s pop music.
And I read a lot of literature too, I'm really into books,  so I'm sorry but there's no way to give you a wise complete answer here. I do love Philip Roth and Henry Miller as well as Sylvia Plath (she definitely would hate me for this).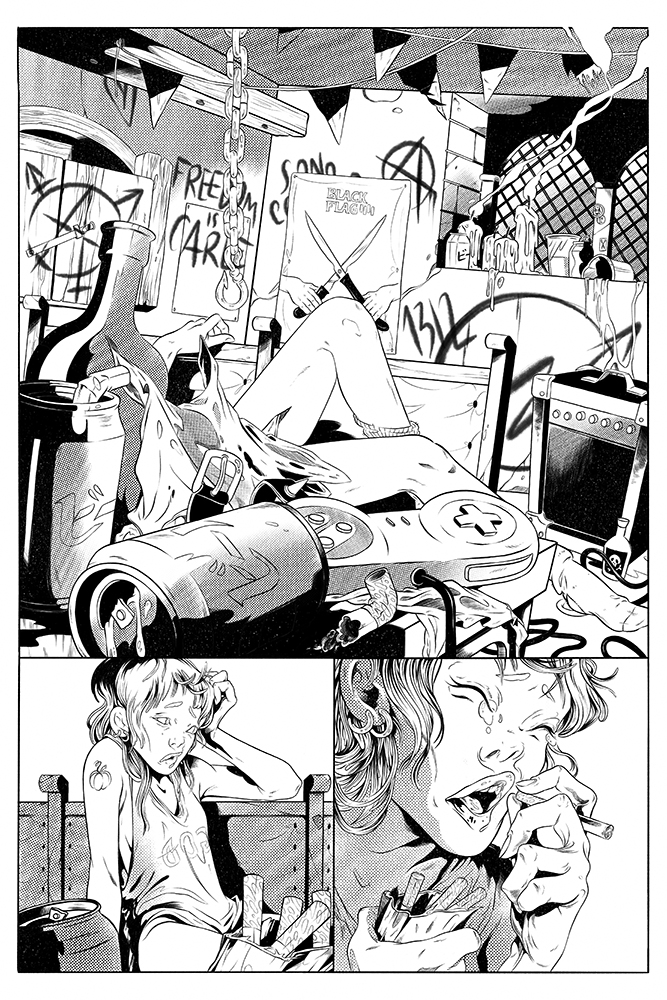 How did you discovered the DIY/punk culture ?
I think I am naturally attracted to riot. At school studying History, in books or movies or songs, I've always felt a sense of affiliation with people who were struggling, rising fists, laughing and screaming and just exist in freedom, or trying to find it, or looking for a radically different way of living. Since the first time I heard the world PUNK, It attracts me, I was 11/12 when I started to research about the history of the movement, at the school we studied the 1968 movements, then I saw pictures in magazines and comics and was interested in the style at first, crazy heads, piercing, tattoo and so on.
It was the early 2000s and I was in the deep south of Italy, no Internet still, everything was going slowly, so the first things I stumble upon was pop punk from Usa, Blink182, Avril Lavigne, Green Day, etc. Then with the manga Nana I discovered Sex Pistols and Vivienne Westwood, I used to like them all a lot. Ramones completely got me in. But when I was 13 I receveid my first album from Pornoriviste, and I finally understand where my heart beats.
Where did you grown up ? And how did this city influenced your artworks?
As I said, I grew up in South Italy, and went to Bologna in 2012, when I was nineteen. My hometown is incredibly beautiful, nature truly did her trick there. I grew up at the seaside, having the sea all around you can influence your attitude a lot. First of all, everything can be claustrophobic to me. People, place, time, food, everything.
I need air. But, despite this paradisiac environment, It's the worst place to live in. I was considered a weirdo just because I red books, still like to draw at sixteen and wore black.
Back then there was no cultural scene at all, not even mainstream kind of interests. Nothing. Or it was inaccessible to young people, anyway. Now it's better, good place to be a musician! But zero political scene, not for me for sure.
You can be lucky and have around a family (biological and/or choosen one) built up in a super pure love, as I am, or you're just alone, surrounded by fascists, and quickly became one yourself. It influenced my artworks filling me with urge, fear, need of escape and a good amount of rage.
How and when did you started ? how did you increased your style?
Don't know how it started. As I child I drew a lot, it was a game and a way to discover the space around me. As a young girl I drew a lot, it was a way of coping with loneliness and problems at home; as a teenager I drew a lot, it was my way of keeping out the world and demonstrate to be different from others; as an adult I draw a lot, sometimes 'cause I need money, sometimes as an act of resistance, most of the times because at this point I don't know what the fuck I could do instead. It become a natural, physiological thing I do, as peeing. Style increases with practice and curiosity.

It's quite rare among the people we use to make interviews: it seems that you manage to make a living from illustration. Is this your job? Do you have a rhythm, or a cadence to maintain in order to be published as regularly as possible?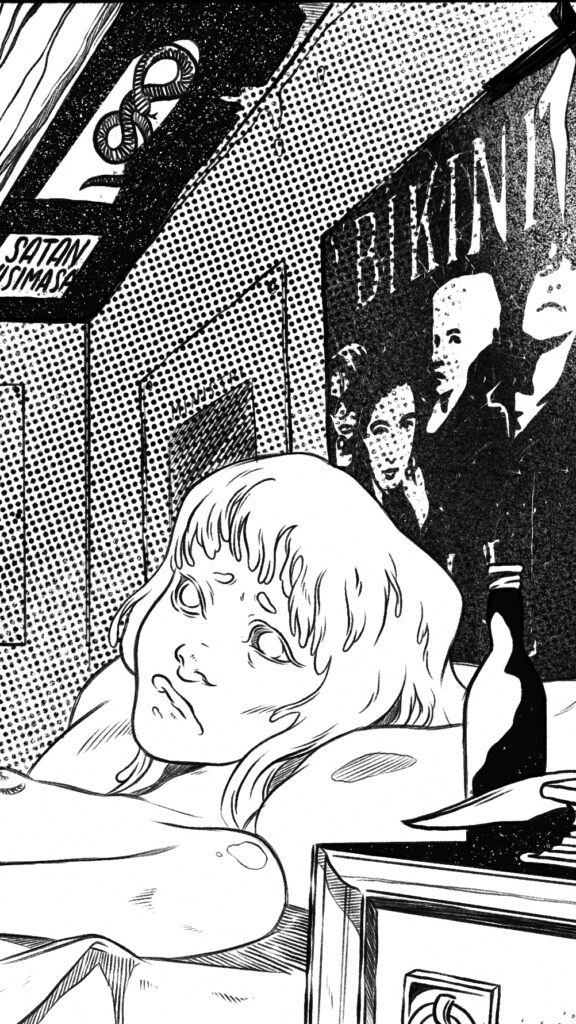 Ah ah ah! I love this.

I tried to, but it just doesn't work. Not here, not now, not if you aren't an Instagram rock'n'roll star. I'm currently looking for a job to pay bills and rent and beers and drugs. I have got my book published by the most known publisher in Italy, it's not enough to make a living, nonetheless.

Big publishers make a lot of money with our books, we don't. I just wanted to give it a try, there's still some good point in doing so, I could accept it all when I was younger,  but it's not a suitable solution for me anymore. So I want to take a step backwards, make a living out of being a bartender (or anything else) and draw for projects I love, trust and don't turns my life in a shitty mess of tiredness and poverty. I hate work, but I need one, at least I want one that ends at a certain hour.
Creative works never ends, you think about it even while you're making out on a cloud of red roses. Hate this. When I finish a new book or a long project, I always got sick. I enjoy life and having fun too much, to be a published comic artist.
Can you tell us about your meeting with the author FumettiBrutti (Josephine Yole Signorelli)? How did you come up with the CENERENTOLⒶ (2021) book? Can you introduce us to the book?
Josephine is my soulmate, the sour in my whisky, the paprika on my chips. We met at the Academy of Fine Arts in 2016, we were in the same class (I quit, she graduated).

First I just wanted to escape from this crazy ass Sicilian witch who followed me everywhere and talked to me as we were friends since ever. Now I couldn't breath without knowing that wherever she is, we're someway connected.
We did a lot together, both in DIY and publishing; when the pandemic started and all the world drops dead, I was bored and wanted to try to draw a long form comic book, she had this idea of an anarchist Cinderella in mind since years and no time to draw it (she's famous, she's an Instagram rock'n'roll star, she draws with no pain and has a lot of necessary think to write about that the world needs to hear, and hear them now. She's very busy changing the world, you know.).
So we come out with this idea about re-writing the classic tale of Cinderella in an anarcha-feminist key. It's a simple idea, with very cartoonish style of drawing. But it was fun!
Basically: Cinderella got high at the ball, the prince felt in love with her, she doesn't want to marry a stranger but was forced by circumstances, so she just run away and go to live in a squat near the old valley… than a bunch of events, coordinated by Satan Himself, led to the destruction of the Castle with punk mice taking over the monarchy. 
Do you have any other projects with Feltrinelli Comics?
Yes, my new book is called "Nora's Big Eyes" and is out since the 14th of July, 2022. I wrote and drew this time. I love Nora, my original character, she's just crazy and see monsters and hallucination all the time. But she likes it in her own way. Reality is a very limitate state to live in.

You are very close to your readers. You communicate a lot with them on a daily basis on social networks. Why is it so important for you to maintain this almost permanent contact with the people who follow you ?
Mmmmh… yes and no, I tried to explore the Instagram Imperial Realm starting maybe two years ago. Quarantine hit me hard, I was alone at home in a very deep depression. Also, the squat I was in had been evicted a few months prior and I was completely lost.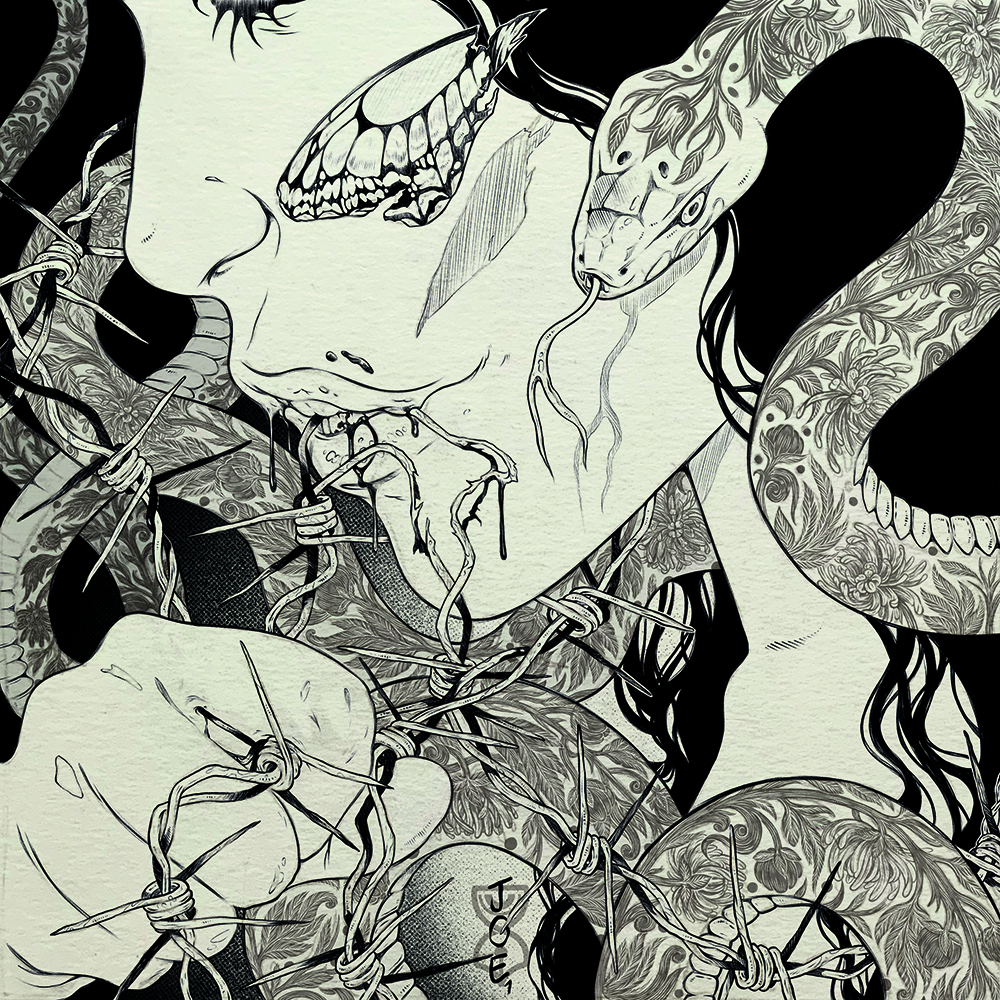 At a first moment communicate with others on Instagram was fun. I tried to create this space to debate and confront about political stuff, feminist urges, social situation and so on. It was very intense, a lot of good come out of it. But I need to do all of this with stinky flesh around me, Instagram will never be a public, safe, shared place. So it bored me soon, I continued to use it in a more easy peasy way, I wanted to see if this could really help me to work more with drawing and sell more of my self-producted prints. It does, but you have to be deeply committed to this mission, and I'm not, at all. I continue to share a lot of stories maybe, but it's just because I'm silly, I enjoy my life and stuff I do and see and I like to share pictures. Also my cats are very photogenic. And me too.

We know that you are a fanatic of music. What are you listening to right now ?
In this exact moment, I'm on a train, coming back to Bologna and I'm listening to the Smashing Pumpkins. This is not punk, this has to do with love and a charming monsieur filling my thoughts.
If you had to take one album to a desert island, which one would you take ? Why ?
This question is HAUNTING me since I read it. I don't know, I'm so scared to answer!
It would take me months to think about an important album, good music, good lyrics, good impact on music history and blablabla.
But let's be honest, I am not so wise. I would take something that I still listen to, very often, since at least fifteen years with the same joy of the first time: Torino Rock'n'roll Starz from Bellicosi.
I'm on a desert island! I want to scream and dance and get high sniffing raisins from purple plants!