In Casablanca, Mohammed 'Rebel Spirit' is an institution! Real child of the working-class districts, he spent his life drawing scenes of daily life until become a famous illustrator of his generation. After doing us the honor of making the cover of our third fanzine dedicated to the Moroccan alternative scene, he starts a conversation with us about his neighborhood of Salmia on the outskirts of Casablanca.
Welcome to the crazy world of Rebel Spirit, between motorbike tours, superhero challenges, arcade games terminals, Pantera riffs, horn sounds and Raja chants. | Interview by Polka B./ Trad : Dimitra
How did you start to draw? Why did you choose the nickname "Rebel Spirit"?
I started when I was very young. I am the little brother of 3 sisters. Since we didn't share a lot of games together, I had my quiet little corner at home. It was drawings, video games, and animated films! At school, I was encouraged by family and teachers to do lots of drawings. I developed that when I studied and that quickly became my job. For the name "Rebel Spirit", it goes back to high school. I did a lot of vandal graffiti with friends. We went out to tag everywhere. My nickname is inspired by the song "Saharagga" by the group Gnawa Diffusion which means "Rebel Soul & Spirit". I removed the "soul" because I liked the "shouted" side of the song.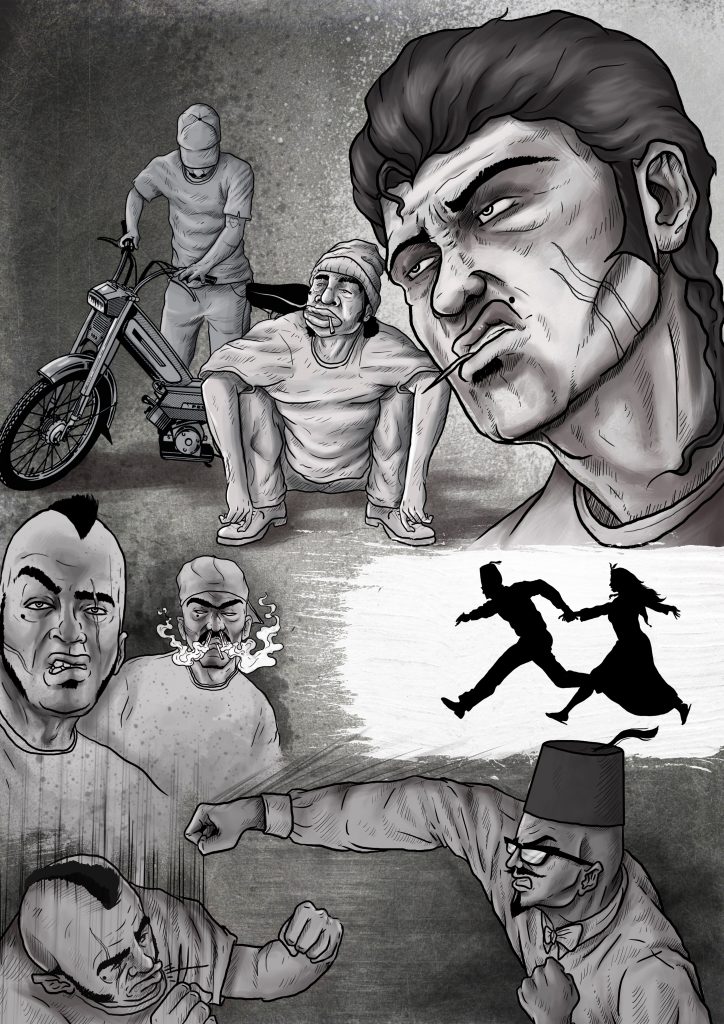 How did you find your way into comics? What was your basic creed?
It has developed naturally. At first, I reproduced images from magazines or superheroes. During the lessons, the students concentrated on what the teacher said. I was busy imagining scenes from everyday life. Scenes of weather presentation of Moroccan channels for example! Souk scenes, bag theft with a police officer chasing the thief … or teachers of the school in nudist mode! (Laughs) I got my revenge for the things I didn't like in reality. It was a kind of escape. It feels like you've always wanted to draw your love for Casablanca. With the desire to show this city as it is.
Casablanca is a great love. This is where I grew up, where I built all my memories and my personality. I don't watch her anymore. I watch it. I like to show its details.

The street, the traffic jams … It's not just mess. Taking the bus to Casa is not only taking the bus, it is an experience!
The taxi is the same. Meeting people, going to the stadium, shopping … These are life scenes that I really enjoy. I like to step back from the little things of everyday life. Working in this city is legitimate for me. I also wanted to break the clichés. The ones we see in the film Casablanca for example! Many people believe that it was filmed here, while it was in studios in the United States.
But we are not in black and white, we exist! All the senses work when you are in Casablanca. The sounds, the colors, the images … I consider myself a witness. I would like to leave my mark on my city. An archive that does not depend on the press and the media. Currently, the trend is to talk about the architecture and Art Deco style of Casablanca. We never talk about people who live on the other side of the highway. L'Amazigh with l'fassi, le Chel7, l'3robi… I no longer want to talk about the past of Casa. I want to talk about the present, to talk about the future. If one day I have children, I would like them to be able to see what I have observed, and how I have been able to love my city despite its faults. For me, that's real love.
At home, we also feel a love of international pop culture. As if that allowed you to get away, while interpreting this sum of influences "in Moroccan sauce" … Do you not have this desire to contribute to Moroccan pop culture?
Morocco's position has always been a crossroad. Lots of civilizations have passed here between Europe, the Middle East, and sub-Saharan Africa. A Moroccan is someone who is more or less open-minded. He knows things. He can deal with several nationalities. In any case, Moroccan culture is not completely "native" from here. We have digested many different cultures. A Moroccan can understand an Egyptian film, but an Egyptian will never understand a Moroccan film. Thanks to my parents, I received this education, this spirit of openness. No matter how much I lived in Morocco, my head was everywhere. I got to know Japanese culture by going to arcade game rooms! Cinema is the same. Moroccans have always enjoyed Indian and Egyptian films.
When I was little, we went to the movies on holidays. I saw Moroccans watch Indian films … They sang certain words of the film without subtitles! This is also the popular neighborhoods of Casa … This is where I grew up. It's very open, and it's not square. It's our identity.
Did you also want to break some stereotypes? When you create, do you think about the reception of the Western public? Do you want to address a global audience, beyond the inhabitants of Morocco?
Here in Morocco for artistic and visual creation, there was a kind of "direction" in the 60s, 70s, 80s and 90s. We wanted to distinguish what was art, and what belonged to the field of decoration .
There were certain codes, especially in terms of abstraction with many stereotypes. Arabesques, sunsets, calligraphy, camels … This did not necessarily represent Morocco. In the cinema, it was the same thing. Darija (the Moroccan Arabic dialect, note) was not highlighted. We were watching movies that imitated classical Arabic. Same for the soundtrack, we preferred to be inspired by Egypt. Our culture was not represented. Same thing on TV shows where we didn't speak Darija. If someone said a swear word in French it would pass, while in the Moroccan dialect, it would have been scandalous! It's as if we are ashamed of our habits and our little identity.
It's all that I'm inspired by. I want to look at the person right next to me and borrow his pictures. Capture happiness. Take pictures where the Moroccans looked good for the photo, just because it was important to them. I want to export these images. It's normal life that is important. The Japanese have done it very well. They spread their way of life, emphasizing these little details. Their way of talking, eating, talking together … I don't want to take an Andy Warhol-style Pop Art character and add a little Moroccan hat to it. No! I want to draw people who are preparing to go to the hammam, people who buy figs, who eat a sandwich … That's really it.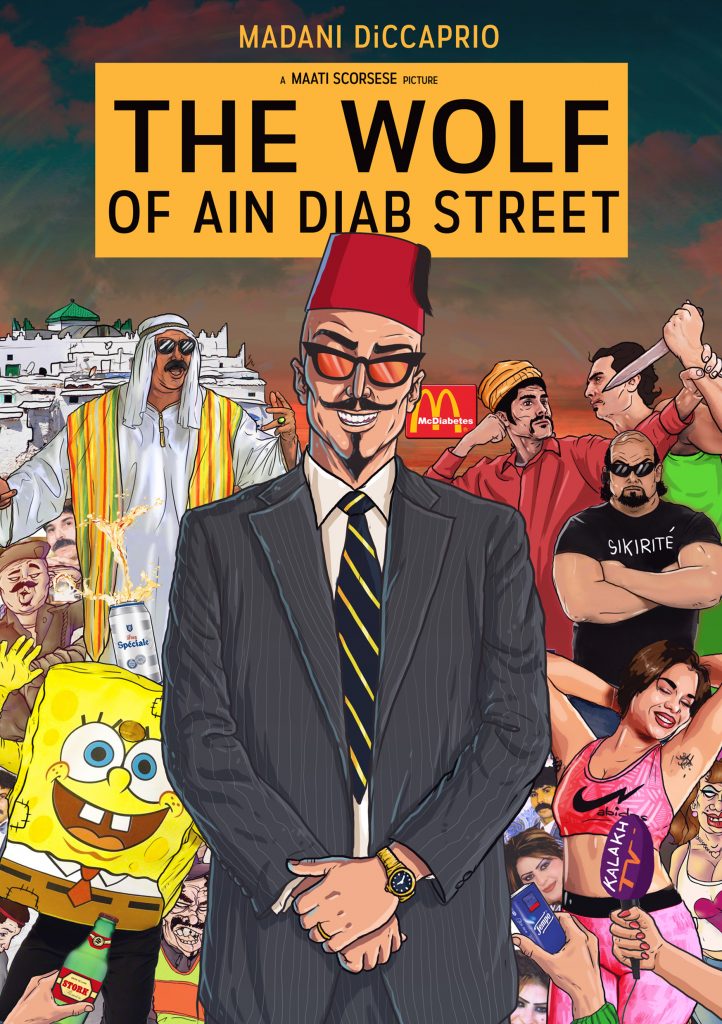 We noticed that you had a lot of tenderness for popular Moroccan culture "old school", and that you were inspired by elements that were sometimes very kitsch to make something new. Do you agree with this feeling?
It's exactly that. On the other hand, I would not say "tenderness". With us, we rather say « 7anane l'walidine ». These are the little rituals that we have at home. Our habits. It's the way moms make tagine and bread. It's also the way you have fun when you go to the bar. The way we listen to popular music. We are not used to staging them in our different artistic disciplines. I love the sense of DIY that we made here, the Moroccan do it yourself! It reminds me of memories. The smell of cafes when you go inside, the smell of snacks … I don't want to live modernity to please others. It's my life ! If one day I have Alzheimer's, I can at least remember the person I was.
Is that also why you created your own comic book series, Le Casablancais?
This is too funny because it brings me back to my childhood. The time when I copied lots of Marvel and DC Comics drawings… I created lots of superheroes with Moroccan superpowers! Like "Babouche-man" who threw babouches everywhere! I always dreamed of creating a character who represented my life. It was my graduation subject at the school of fine arts. He is a hero without glory who makes us visit Casablanca. A bit like Tintin! In the first volume, I mentioned phenomena that could not occur anywhere else. In the second, I talked more about him.
From her first love story. I imitated the rhythm of the novelas series that we watched when we were little. I got a bit of inspiration from Indian movies too. I even imitated their faults by introducing a few narrative facilities, a story that really resembles this kind of film. This made a splash in Morocco in the 80s and 90s. For volume 3, I am preparing a story that will talk about boxing. It will be a kind of Rocky Balboa, which will highlight an endangered Moroccan practice: l'7al9a. It's like street theater. In short, as long as I am alive, I will work on this series. I will make it live to promote our culture. It doesn't matter if it works or not, we don't care. What matters is energy.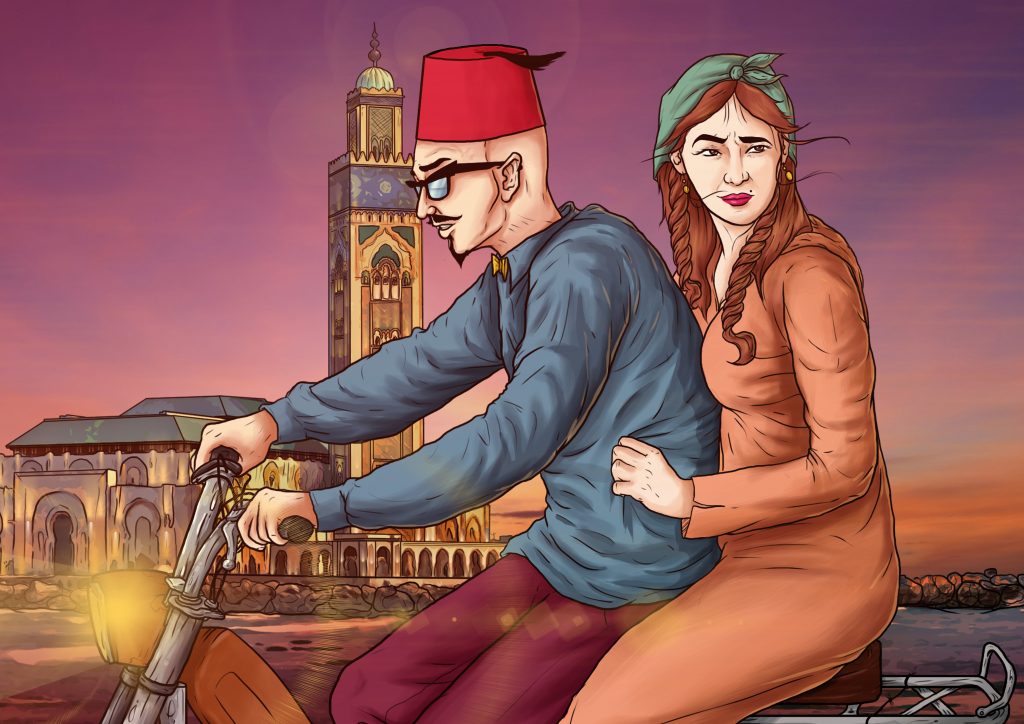 Have you ever thought of live anywhere-else? To leave Morocco?
I couldn't even move out of this house where I finally built my workshop! I left for a while in the city center, but I ended up coming back. This is where I grew up. I cannot leave Morocco. Impossible. No matter the difficulties or problems. It's easy to run away. If I can leave a little trace in history, it will be cool if I do it here.
You are currently wearing a certain green soccer jersey… Can you tell us about it?
Raja Casablanca is the first love of my life! I started to develop my personality when I went to school. The first thing I liked was this club. It's much more than a club! It's a way of seeing football differently, a mentality, a philosophy, a lifestyle! It makes us happy, it makes us sad. I experienced emotions with Raja that I could not live elsewhere. When you go to the stadium, you find a tramp, a lawyer, a doctor, a pickpocket … Whatever, we're together. The only goal is to support our team. It is an eternal love that is always marked in my heart. I will never change it. It's my DNA, my fingerprint. This love is unconditional. I played in the Raja teams until the minimal. After I stopped. If one day I have money, I will of course become the president of the club. (Laughter)
You're also part of a music group! Can you tell us about it?
Music has always been on my mind. I've played in a lot of bands! I was singing ska, punk, fusion … I stopped for a while. At the age of 30, we ended up in a bar with friends. We did a jam and we decided to do "Mustache Orchestra" in 2018. It is a kind of orchestra, like those that Moroccans suit for weddings. We use very pop Moroccan songs. These are classic songs that everyone knows. We take them back in a rock way by sometimes injecting a little metal, punk, reggae… it made us really happy to replay all these songs. It's a show where we laugh a lot. We present our titles as riddles. People don't recognize right away but they react as soon as we start to sing! It's really the burst. We don't refuse any scene. Money or not, good stuff or not. We just want to play this show, just to share this love for music and Moroccan wedding parties. We dance and we sweat!
Isn't that exactly what you want to do when you draw? Dust the tradition while respecting it, without perverting it?
The idea is "breaking the rules"! It's about disturbing the classic Moroccan, the one who doesn't want to move. We want to talk to our generation. Disturb our parents and live our Morocco to us. Our habits are original. We want to free ourselves without denying our past. I would not speak of "tradition" – because sometimes traditions completely miss the plate -, but of lifestyle.
The final word ?
Dima Raja!