WHORESNATION – DEARTH (2022)
In the european dysfunctional family of grindcore with a patched to the bone- crusty ass-nuclear stone- crackhead dad, and a neanderthalian and crude mother under perfusion of pure US death metal and, can I have, please : Whoresnation !
Founded in Besançon and having themselves specialized into skull-pounding blast beats since 2009.
Whoresnation depicts really well on a musical scale the distress and the ambient taciturnity of living in the graying big hexagonal east.
| By Nino Futur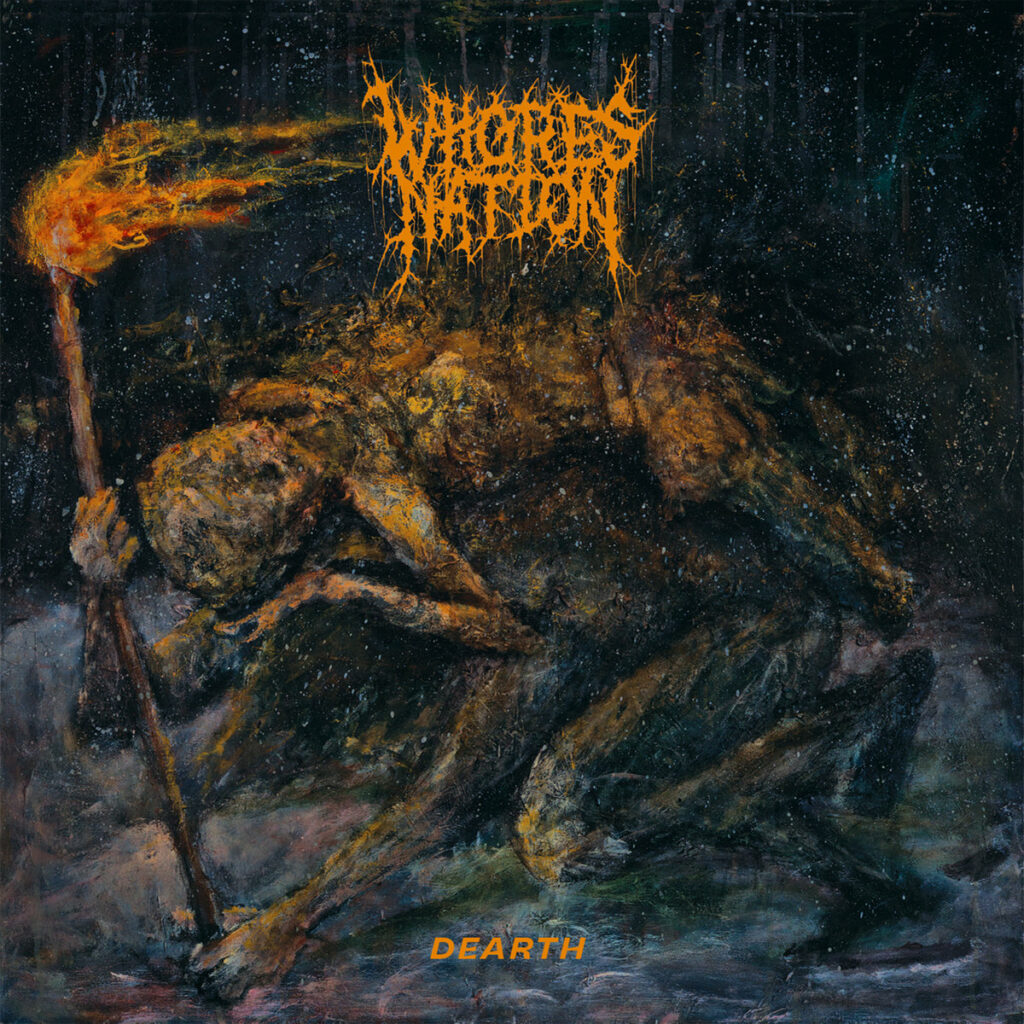 Even more It's not for nothing that Besançon and its surrounding towns are a veritable breeding ground for bands, each one more gloomy than the others between grind, crust, death metal and screamo. Many European reference groups in DIY have developed in these drizzly regions and are still on.  Recognized as the most dangerous and vigorous in the scene, namely pure traditional grindcore, all-blasts-out and knife between the snags, the Doubian combo has more than proven their effectiveness on stage than ever.
Crippled Fox from Hungary said it in Karton #7 "nobody can fuck with them".

Endowed with a metronomically striking drummer, and a foolproof riffer, all the planets aligns for this "Dearth" which released almost two months ago comes like a small consecration in the scene, where it predecessor "Mephitism" released on Throatruiner in 2018, already established itself as a good block of darkness for our auditory pavilions.
But you'll tell me: apart from doing abusive storytelling and making surface-talking about the band, what is this "Dearth"'s worth?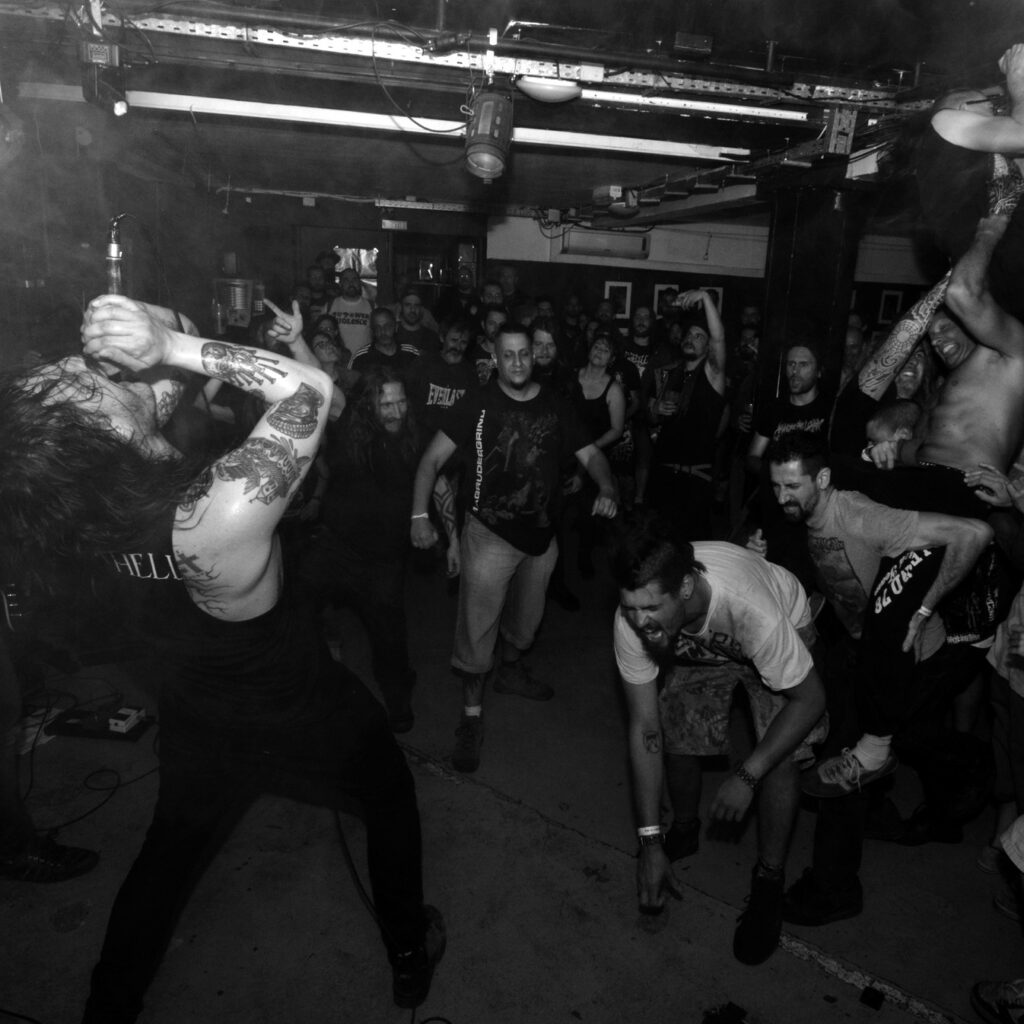 Well to be honest, reviewing a grindcore album is a very difficult exercise in itself in the sense that its effectiveness is very quickly proven, and due to its condensed and monolithic aspect it is quite hard to go deep into the substance of an album. How can we talk about ambiences and musicality when the subject remains the same from start to finish: aggression.
But where Whoresnation have managed to make the difference is in their ruthless ruthlessness. A must for all ears masochists, what am I saying? Here's the grindcore release of the year!
Always more engulfed in the old-fashioned death metal breach than its predecessor, we even feel small "Swedish" influences if we want to talk it hipster.
The production signed Steph "Tanker" Lawansh (Blockheads, Vlaar…) as well as Greg Wilkinson (member of the very confidant but incredible US group Brainoil) sounds raw enough not to claim the band as posers (that snare sound!), but clean enough to make it a good record.

The recipe remains relatively the same as on the previous releases, a clever mix of pure grind, crossed with the most sticky and Neanderthalian death metal as possible with its inhuman voices all in depth which rumble on the whole thing.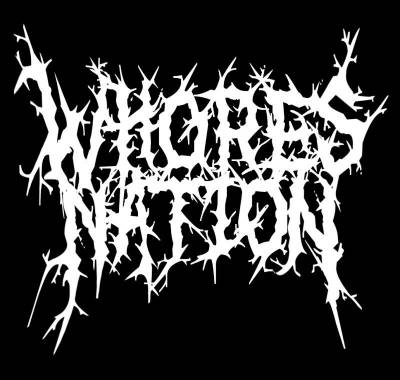 Breaks and other riffs very typical of old school death metal so dirty and cavernous that you can feel the mustiness coming out of the speakers ("Craving to death", "Avalanche")…Although sad that the lyrics are so elusive, we guess a semblance of political background behind some track titles ("Everyday Kriegspiel", "French Enucleation"),it also made me look into Phillip K. Dick's work Doktor Bluthgeld or even take a little lesson in dermatology with "Bullous Pemphigoid" (Googling with precautions)…

"Dearth" is exhausting, aggressive and suffocating, so many adjectives that normally would be unacceptable for an album but which for Whoresnation is only synonymous with a smooth operation, the extreme metal release of the year quite simply. Not to be put in all hands except those of the real ones, those who know how to appreciate a stick of expired surimi with its ashtray seasoning.
Special mention to the disturbing artwork by Matt Sidney magnificently summarizing the abjection that awaits us at the turn, which is probably one of the best that the band had.