The drag show as an artistic genre and its positioning in the DIY scene.


We had the chance to talk with the drag queen Lafert! Originally from Greece, she lives and works in Berlin. She started drag a bit more than a year ago, after several years in the DIY scene as an activist and radical feminist. | By Alkistis A. / Trad : Alkistis A. / Illustration : Mademoiselle Pin
Can you explain us what is a drag show ?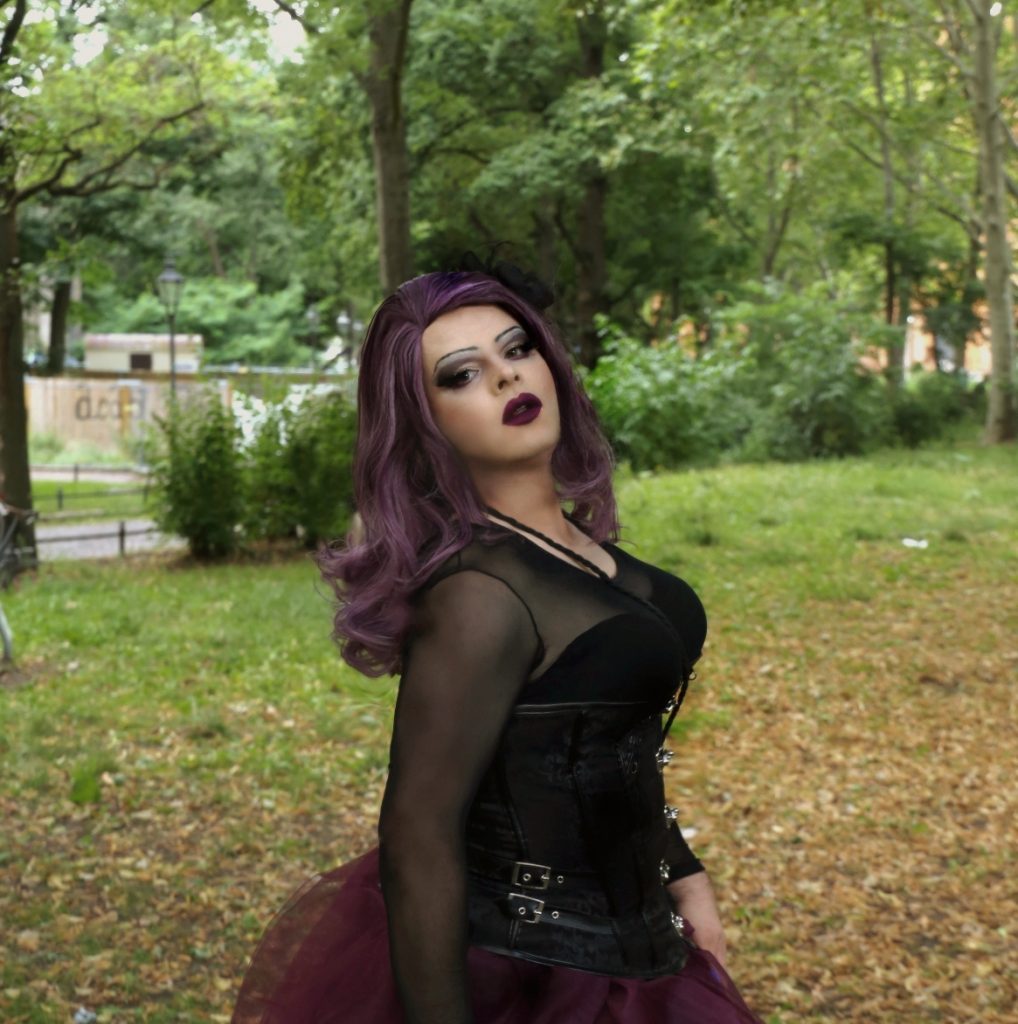 Drag is an art form whose first origins are found in Shakespeare and even a little in Aristophanes.

The term drag queen/drag king didn't start as it is considered now, but the first elements can be found in the Middle Ages.

At that time, women were forbidden to act in the theater and if they didn't obey, they were burned. Shakespeare used men for the female roles and he transformed them in an extravagant way.

This is what we call drag today: huge breasts and body, hair, eyelashes and lips to create a kind of caricature of the opposite sex.

Not to diminish it but to create a complete work. This is the very first origin of drag. And then in the 50's it was adopted by communities in America where many trans people used the drag show in bars and nightclubs to work, because they didn't want to enter the sex work.

There are drag queens and drag kings*. The term drag is the transformation of a person into the extreme form of the opposite sex in order to produce art. A drag queen is neither an actress, nor a singer, nor a dancer, but a bit of everything. A show can involve songs, lip-synching, impersonations, dancing, poems, monologues and all that combined too

*Drag kings are women who dress as men for their performance and especially now that the subject of the fight against patriarchy is greatly developed, it is much more practiced.
What differences do you find between "commercial" drag and DIY drag ? Did you notice any differences in practice between Greece and Germany?
In Greece, if someone practices drag as a profession to earn a living, the state documents officially consider them as a "clown". This is extremely abusive. So, there are many groups that through a union, fight to bring drag show under the legal framework as a profession by writing "transformation show" or "drag show".
In Germany and America it is a separate artistic genre and it is free. We talk about professional drag as a way to earn a living, without necessarily a political discourse behind it. There are artists who have sponsors. Drag is also found in the theater, we see a lot of actors who do it for the needs of a role. But there are also us, the drag queens of the movement. The DIY drag that carries the political action, without profit. The art of drag is like any other art. Like a guitarist can choose his repertoire, the places where he will play, his public…
People who do commercial drag are more focused on the artistic part. They don't have the opportunity to make a political statement because of the context, the sponsors, or the management. On the contrary, autonomous drag is free. There is no one who can stop me. My motive is purely political, it's a performance as a political position. But generally, drag is a radical act. Commercial or political, it remains a slap on the norms of society, an act condemned by powers and states.
But it is not always easy. Let's not forget that in Greece, the self-managed places and the movement in general do not have the culture of the drag show. It is still a recent subject. Here, in Berlin, the anarchist and radical movement deals with the subject of the emancipation of women and queer people since the 50s. This is one of the differences between the two countries.
In Berlin, there is an anarchist pride where all the collectives go out in the street next to queers, drag queens and trans people… Of course, there are also straight cis men but they wear wigs, they paint their nails to support us. These are images that you don't see very often in Greece. I'm very optimistic but we are still at a primary stage.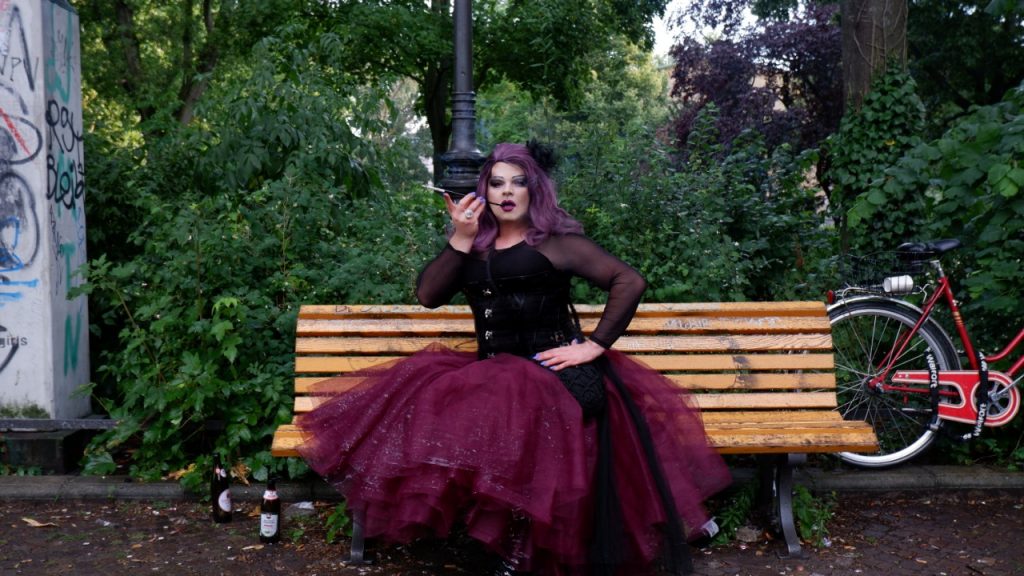 Sometimes, the public confuses drag art with transexuality. What can you tell us?
Drag as an artistic genre is not about sexuality. It is an art form that does not have sexuality in its definition. There are many straight people who do it. It is rather an artistic state. Of course, it is possible that there are trans people who do drag or gay people who through this transformation can see themselves in the appearance of the opposite sex. It is a personal choice of each and everyone. But we can say that everyone can do drag.

And you? how did you decide to become a drag queen?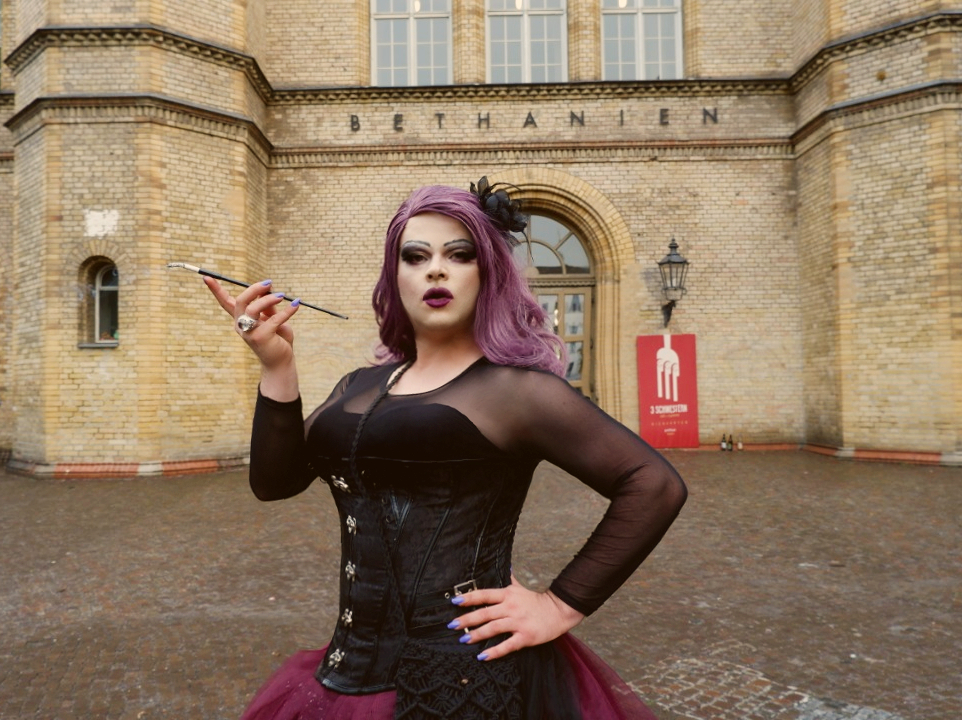 I started in the spring of 2020. I had no personal connection with drag until I heard about the murder of Zak Kostopoulos/Zackie Oh. And I think most Greeks learned what drag was at that point. Google was on fire with the search "what is a drag queen". When this person was murdered by the cops and the passers-by in silence. The murder was the occasion for me to look at his life, his profile, his actions. Through this research, I had the idea to appropriate the drag show a little.
We decided with some anarchist friends to participate peacefully in the pride and to put a political note on it. A friend told me "why don't you dress up like a drag queen? to have a strong queer presence". I got into this whole thing and then the pandemic happened. All the prides were canceled. I was left there with all my accessories. During the first lockdown I started doing makeup classes, which I had no idea about before. I wrote my first performance which is dedicated to all the queers murdered in the world, either by regimes or by mentalities and patriarchy.

The show is composed of a narration, a monologue, a funeral song, audiovisual elements and songs, and it ends with a hip-hop track that my friend Sara gave me: "I am the voices that were screaming and you didn't hear". We sing it together at the end. The language of my performances ranges between greek, english and german and goes along with subtitles in english so everyone -people with hearing problems included- can understand.
Why "Lafert"? How did you choose this name?
It's a tribute to a Chilean singer, activist and feminist: Mon Laferte. She is a cis woman folk singer but she has a lot of drag elements in her appearance. She was known when she received a Grammy and during her statement on the red carpet, she tore off her shirt. On her chest it was written: "In Chile, women are tortured, raped and murdered".
How did you build this character? What are her characteristics?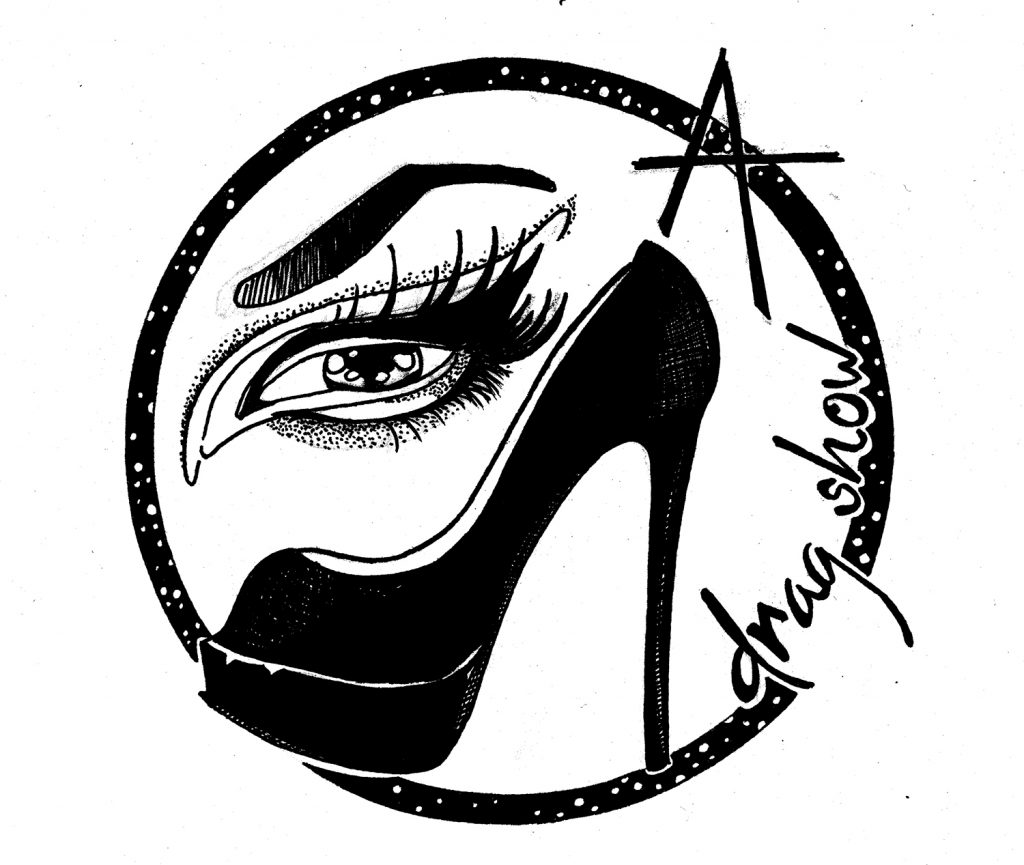 In Lafert, I have 30% of myself. The rest 70% is creation.

Lafert is a woman who believes she was born from raindrops that fall on the graves of queer people murdered around the world. From there, she turned into a drag queen. She could no longer hear the sobs of the dead and she came to this world to tell us the truth. She is a character who seems authoritarian. She has an aggressive goth style, but deep inside she is sad and enraged.

She also seems to be a mother figure, as if it were her children who were murdered or committed suicide (and in this case suicide can also be considered as murder). I built it this way. You will almost never see her dancing ecstatically because it is not in her attitude.
What is required to prepare a drag queen? How do you do it yourself?
Mine lasts 3 hours. You have to shave, do the makeup which is a whole different art and transform the whole face. There are also body shaping underwear that change a biologically masculine silhouette in a more natural way. When I choose the clothes I think like Lafert. Sometimes DIY is complicated because of the expense but there are sites where you can buy and sell at low cost, exchange or borrow with other drags. We are in solidarity with each other, and the exchange dynamic is part of it.

Can you tell us about the collective "Drag Sabbat" ?
Drag Sabbat is an artistic and political collective, created during the first lockdown by 13 drag queens in order to build an artistic union in the future and to participate in the evolution of the legislation from "clown" to "drag queen/king". Our meetings are horizontal. We support free speech and creativity. It is a free and self-managed collective.
We started with the creation of sabbat shows, online shows with a subscription of 5 euros for economic support of the group. The sabbat shows have touched different topics like Halloween, Valentine's Day, Christmas and also the 200 years of the Greek revolution, an anti-national show. We are in Athens, Thessaloniki, Heraklion and Germany. We try to intervene in Germany, to participate in demonstrations, to collaborate with feminist groups, like "Sabbat" which is our sister group. To have a presence, hoping that we will become much more to perform together in Athens, Thessaloniki, Berlin… We will also be at the trial for the murder of Zak/Zackie Oh in October.
What are your plans for the future?
I have the creativity to produce my own performances but I am also available to the public, to participate in concerts, videos, projects. In general, I receive very positive feedback from Greece. I'm already in communication with some DIY artists who would be happy to invite me to open their concerts. At the end of November I will do some performances in Greece for the financial support of some causes.

I am optimistic. We are progressing little by little, maybe when I'm older, I'll go to gigs with my cane and I'll see trans people opening the concerts! (Laughs)

I would say that every artist is able to orient their audience a little bit and make them evolve too. If a hip-hop concert in Athens starts with a trans artist or a drag queen, it' s because the artists who are participating are coming out too. It's like saying, "Guys, those are our sisters right there, no matter what you say". It's about having the courage to do it!
It's not enough to take a stand against sexism and homophobia, but to be able to take ownership of such a situation. Will you be able to accept 4 trans people in your reunion? Can you wear dresses and rap like Krav Boca? That's the question.
One of my personal goals is to get into this movement in Greece and fight for all this. Because feminities, non-binary, trans, queer and everything that consists of self-determination of each and everyone must be in the front line of the radical and libertarian movement. We can't fight without these people.
That's why I want to fight. I will come among you, I don't wait for your invitation. Here is Lafert, she plays there and there, she has this political attitude and she arrives. Period!