Since August 2019, the Greek government's decisions have only illustrated a most current authoritarian drift. From now on, the decision-making bodies at the top of the States no longer hide behind the scenes by deploying unprecedented violence, designed to combat any act of resistance. This article provides a "snapshot" of a very real situation. It is not based on emotions, but on facts.
Neo-liberalism and its police-based management now shows its true face: that of fascism! The example of the latest evacuations in the Exarchia district is more than emblematic… | Article and Traduction by Alkistis A. (Illustrations by Mademoiselle Pin)
Exarchia is one of the most vibrant districts in central Athens. A place steeped in history that can embody a form of resistance and a refuge for unconventional people. There are many squats, auto-organised spaces, places that validate the presence of a powerful movement. An occupation represents both a denial of property and a sense of community. The squats in Greece have become real homes, family homes, warmth for people who need them. They have become places of hope and struggle against the established system.
However, the extreme-right neoliberal government that emerged from the elections of 7th of July had only one objective from the beginning: to "clean" the Exarchia district of all the "trash" that contaminates it. At dawn on 26 August 2019, powerful law enforcement forces carried out an evacuation operation of four squats in the Exarchia district, arrested three squatters and took 143 refugees and migrants. Until December 2019, they continued the evacuation of about ten of the squats, increasing the threats of evacuation in Athens, Thessaloniki, Larissa, and Crete.
At the same time, the war against refugees and migrants who arrive daily is only intensifying. The government has increased its policy by permanently expelling migrants from squats in real concentration camps. The image of a dictatorship where the police dominate by abusing their power is not a fantasy. It is being established in a concrete way on a day-to-day basis in Greek neighbourhoods.
Isn't it better to give a voice to those who are actually subjected to this violence?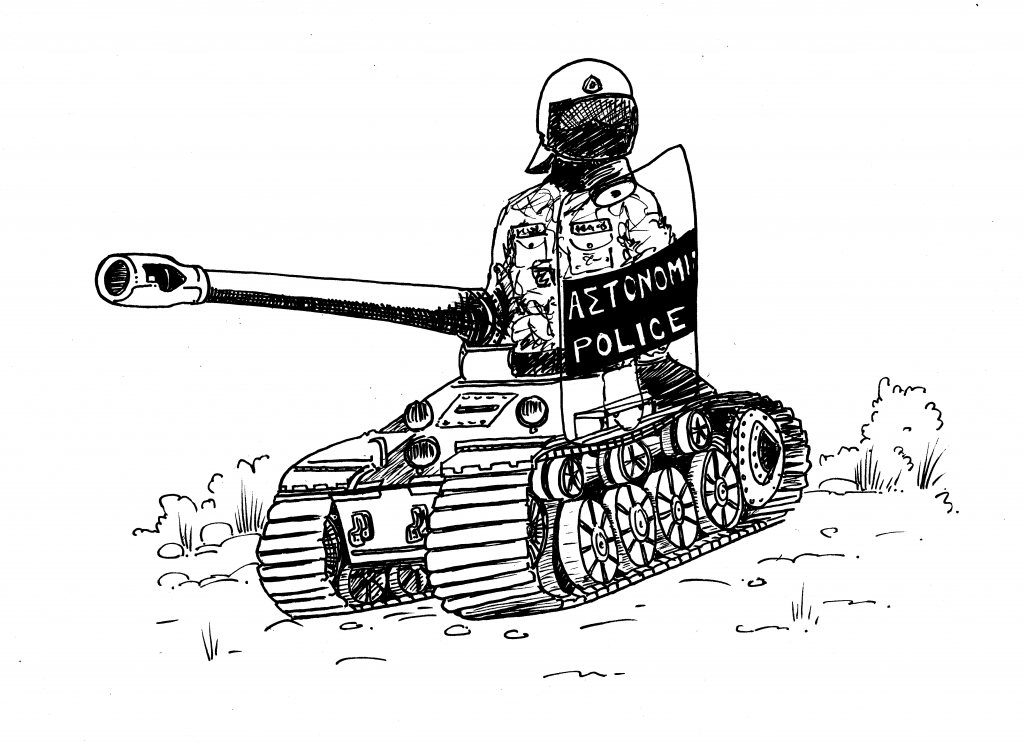 Excerpt from the testimony of Kereem Domingo, a 16-year-old refugee from Congo who was in the "Bouboulina 42" squat in Athens.
"I went to the window. My mother was already there. I've seen a lot of armed cops and journalists. My mother said to me, "Police! wake the others up!", then I heard a loud noise at the door again. They were breaking it. I was very, very scared. I thought the cops would hit us all. The families came to the balcony and shouted: "Solidarity with the migrants! ». At the same time, we heard the footsteps of the police officers entering the house. They went everywhere. They were everywhere. There were too many of them. They intimidated us all with their weapons. Everyone was on the ground, except one woman, really brave. She was with her daughter. The woman started shouting at the police officers in her own language (Lingala, Congo), that it was not fair, that there were only children here, not criminals! The other women got up with their children and shouted that they were afraid.

I don't know what was going on on on the other floors. After our reaction, the cops were more polite. They apologized and told us to sit and calm down. We stayed about two or three hours like that. We asked if we could go to the bathroom. They refused. A little girl went to ask a policeman in Greek: "Sir, please, I want to go to the bathroom". Then we all started lining up to go. The police were watching each of our movements.

(…)

At Petrou Ralli, they told us to stay in a room. We thought we would be charged and deported (to Iran, Afghanistan, or Congo). We stayed there for five hours, then we showed our papers in another office. We were all hungry. They gave the children juice and milk. They told us to drink the toilet water. The Europeans received water bottles. We told them to let us go, that we had all the legal papers and that we were free to move around. We had nothing , we were far from everything. They persisted by saying, "This is your problem". The children began to cry and get hungry. I talked to the police to at least feed the babies and they said that if we wanted food, we had to get into the camp. We refused again! They were kind for a short while, then the threats began. The people inside the camp told us: "Resist, don't come here!". Families preferred not to feed their children and sleep on the bus rather than go there. Some were very hungry but held on. This place was just a prison. We had to stay united, not separate."
Meanwhile, it was the occupants of the Vancouver Apartman squat who were evacuated. Here are their words:
"The Vancouver Apartman squat has 15 years of life without owners. The occupation of the place began in June 2005 via a group of people who simply wanted to cover their housing needs. In the fall of 2014, a series of discussions with companions and squatters in Vancouver began, to "open" the site for other purposes, using it for the needs of the anarchist community. Until today, it functioned as an anarchist/anti-authoritarian political occupation and housing squat, and was one of the houses of the anarchist community. A reference point for political activities, cultural events and social solidarity. A squat that gave solidarity to those in need.

On the evening of Saturday, November 2, 2019, the evacuation of the Vancouver Apartman was initiated.

In the meantime, a wave of solidarity has been generated. On site and in court. Nothing would be left unanswered. »
Against all odds, the government issued a general 15-day delay order for all squatters to leave the site.
The squat NOTARA 26 in Athens gave its answer:
"From occupied Exarchia, we are giving 15 days to abdicate to all those who dream of a revival of the dictatorship and their propaganda mechanisms, and who use them to achieve their ends beating, virtual rapes, forced undressing of women, denial of legal rights, intimidation and surveillance of comrades, workers and students, etc. Here we describe only a handful of the repression and attack tactics used against those who fight. What they call excellence and normality are closed borders, closed camps, closed minds; chimneys will follow.

We received a 15-day deadline. 15 days……

Notara exists for more than 1500 days. More than 9,000 people from 15 different countries were accommodated there. Hundreds of people from all over the world participated in this project. Thousands of different stories have emerged from it. A constant and common struggle, aimed at solidarity, the self-organization of our lives, the acceptance of diversity and singularities. A struggle in our squat, in our neighborhood, on the street.

Ideas cannot be repressed. Notara 26 is there, and will remain alive.

You cannot expel a movement. Not now, not ever.

Housing for refugees and NOTARA immigrants 26

Athens, 21 November 2019. »
In Crete, squats (including Rosa Nera) have also responded to these threats by broadcasting a message on TV. The "new television" studio was symbolically occupied, during the main television news, in solidarity with the squatters. During the occupation, a political message was broadcast about this famous warning of the "15-day delay" issued by the Ministry of Citizen Protection:
"Labour exploiters are urged to increase salaries by 200%, reduce working time accordingly or collectively appropriate their means of production by stealing human labour. Those who unlawfully violate international refugee protection conditions by killing, imprisoning and even abducting children and locking them in inhuman detention centres (without access to health and education) are also urged to resign immediately. Those who expel refugees are urged to shift their responsibility for protecting the lives of refugees to international solidarity movements. The order processing time is 15 days from the publication of this press release. Otherwise, it's not going to go well… We say it sweetly. See you in the streets. Squat ROSA NERA, Chania, Crete. »
But nothing seems to stop these repressive policies. In the same liberticidal perspective, the new administration quickly brought the draft law on the abolition of university asylum to a successful conclusion, in order to prevent any attempt at resistance on the part of the educational world. Now, the police can legally enter univesities and schools. The effects are almost instantaneous. On the Sunday morning of November 10, police forces invaded the Athens University of Economics to evacuate ASOEE's self-organised location.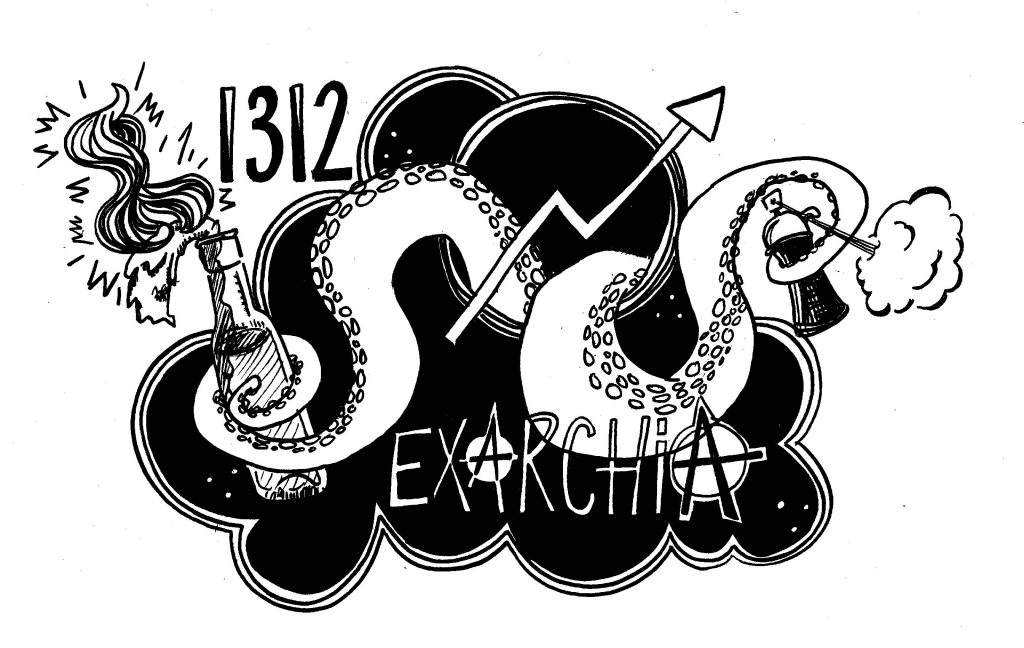 Here are the words of the collective:
"The ultimate goal of the sovereigns, through the abolition of university asylum, is to disarm, anchor and withdraw the student movement in order to launch their attacks against our acquisitions and interests in the best possible conditions and associations. They seek to create a university sterilized by any trace of political fermentation, friction and debate among students. A university where student syndicalism and any attempt to organize collective resistance as well as any attempt to challenge state and capital projects would be fully supervised and criminalized. The law to completely abolish asylum regularly provides for facial checks at university entrances and the freedom of cops to enter universities at any time."
Throughout November, police violence intensified, based on the psychosis of terrorism. Violence, arrests, sexist and homophobic assaults are more frequent than ever. Maintaining constant pressure in Exarchia, the cops know the inhabitants by their first name. Impunity is the order of the day.
There are neither lines nor words to describe the disappointment and rage felt in Greece.
The cup is more than full.
Excerpt from the testimony of Lampros Goulas, a member of the Rouvikonas organization who was recently tortured in Exarchia:
"All the way down Tsamadou and Tositsa streets, I was beaten. We went to Bouboulina Street. Just before arriving at the Ministry of Culture, I heard one of them say, "Don't go to the Ministry, there are cameras. Put him over there instead." They put me in a corner and I don't even know how much they hit me. I lost count. One of the cops was crazy. My head was stuck in the wall and I was trying to protect it. He ordered me to undress. They came at me. I fought to keep my underwear on. They would throw me on the wall and shout "on the wall". They started going through my things. They couldn't find anything in my bag or in my clothes. They found my wallet… They found my money and they started throwing it. They laughed at me and beated me again. After a five-minute beating, the policeman grabbed me and hung me on the wall. Then something terrible happened. He pulled down my underwear, stuck behind me and shouted, "That's how we fuck, we the "greens" (reference to the color of MAT uniforms). In Exarchia, we have dictatorship, you understand? Anyone who doesn't accept the slap and the dick will not enter Exarchia. We are in charge.""
The high point of this tension was on 17 November, when the uprising against the colonels' dictatorship was commemorated. In an atmosphere of extreme pressure, cops enter Exarchia's apartments and terraces to capture anyone who was there. Several young people in police custody were humiliated, spat on, beaten and filmed by law enforcement, without the right to communicate with their families or lawyers. When people gathered in front of the police station to react to this injustice, the police attacked them too.
At the end of November and the beginning of December 2019, new actions and demonstrations continue to be carried out against police violence, squat evacuations and the abolition of asylum in several Greek cities.
Nothing is over. Ideas cannot be expelled or cleaned up.
The movement is still there. It's strong.
NO PASARAN.