HRWAS
(ήρωας)
In our last issue of Karton, we gave a brief history of DIY rap in Greece. Particularly politically engaged, present in the streets, very popular, and of an unquestionable musical quality! Before the sanitary crisis, every weekend there were free and self-organized concerts, open-mics, hip-hop bars, new rappers, but also an audience that was always present and growing day by day (with a recent and very promising "explosion" of fem-rap… but we'll talk about that soon!)
To complete our previous article, we had the chance to talk to someone who knows this scene very well. The floor is given to Spyros, aka HRWAS ("Iroas" = hero in greek). The rapper is originated from Kavala and has been living in Athens for many years. Having known several generations, he has been an activist in political and anti-commercial rap for almost 12 years. | Written & translated by Alkistis A. / Photos : John Mak 91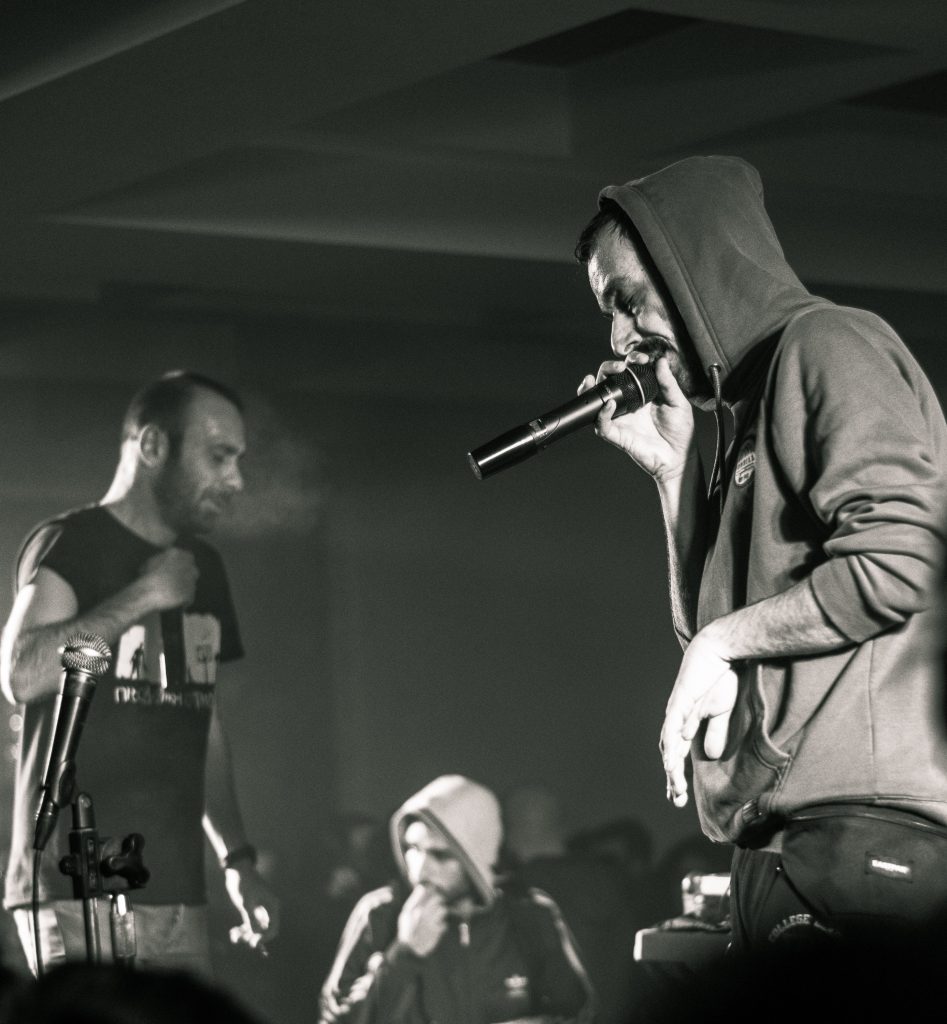 Why did you choose the nickname "Iroas"?
I took my first steps in music when I was 14-15 years old. One day I was watching TV. As it was a national holiday, everyone was talking about heroes. This word was repeated all the time and in my childish mind I thought: "Why historically should heroes be the ones who slaughtered people, or occupied cities? "Anyone can be a hero, so I can be a hero too! That's how I got my nickname. I must admit that today, I don't like it very much… At the same time, I didn't take too much trouble to change it. I wish I could go back in time to do it but it's ok, it reflects the enthusiasm of a teenager!
When did you start making music?
I started writing lyrics in 2003-2004 when I was still in school. The situation was super different back then. Internet wasn't integrated into the culture like it is today. I was just making music with friends using the first basic software. And then, when I went to Thessaloniki to study, I got much more involved.

In 2013 in Greece, the rapper Pavlos Fyssas was murdered by members of the neo-Nazi party "Golden Dawn". How could this event, mixed with a serious political context (presence of several deputies of the party with chairs in the Parliament) have influenced the music scene and especially the political rap?

The political context obviously affects rap, as it is the case for all musical genres that have a voice in society. Rap a little more. We can say that it is a " reportage " music, which portrays the daily life and the experience of people.
The murder of Pavlos certainly influenced rap in general, not only the DIY scene. It has deeply influenced the presence of people in the street and the discourse they carried. The fact that Pavlos was part of this political movement and the hip-hop scene, was very important for people who till this point didn't get involved with the political initiatives. From that moment , people started to incorporate some of that discourse into their music and into rap. From 2013 to today, the anti-fascist and anti-nazi references have radically increased, and the public has become much more involved.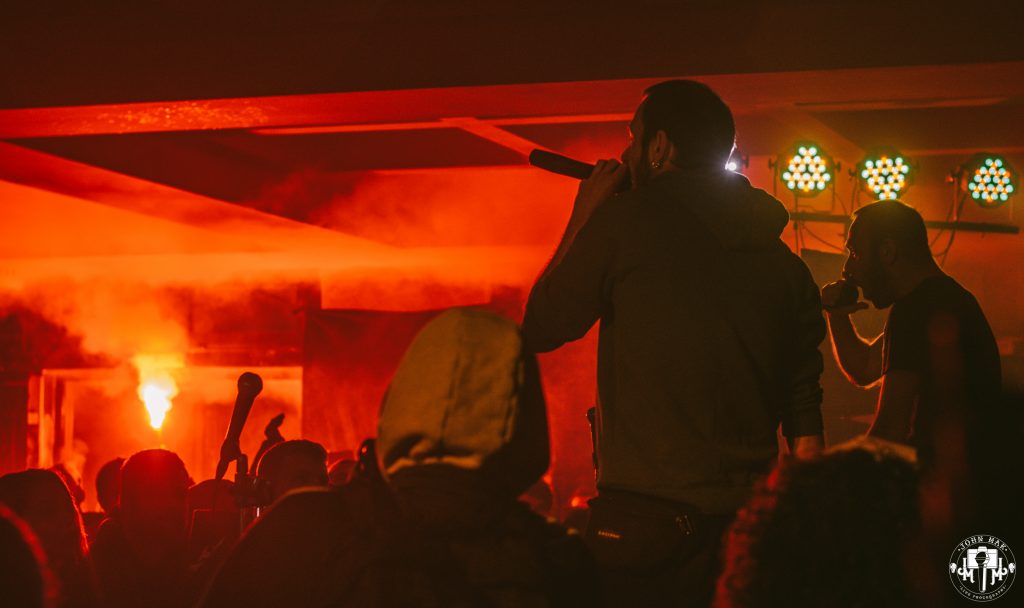 Has this atmosphere brought the activist – self-organized music scene together?
I would say yes! We didn't have a lot of deeply shared characteristics to begin with. But in that context, we all started to communicate with each other.

We wanted to do very simple things. Such as create a poster signed by several rappers or gather in front of the court with a banner. We even had a chat on messenger with 250-300 people.

We discussed about the demonstrations and the actions to be done even though we didn't know each other at all at the beginning. We had quite different political ideas, but there was the spark to unite between us and in the street.
At the moment we are witnessing a surreal situation in Greece. Daily state pressure, censorship legislation, cops everywhere… How does this impact the scene?
Globally, the scene continues to explode in a continuous way. More and more people are getting involved. It's logical because it's the most mainstream music genre with all the negative and positive points that can bring. For me, the DIY scene is on a good path. The situation with covid doesn't help things for sure, but I see that there is more and more quality and quantity. Once again, rap becomes part of what we live. We hear it every day in the songs. Besides, I would say that the references are more social than political. The situation is very tense socially and not all rappers intend to take political positions.
Rap can be a way to get politicized too!
Of course it can! It is rap that politicized me at the beginning. But in 2009-2010, the situation was different. For most people, the self-managed scene was not necessarily linked to anything political. It was more like a way to do a show because they didn't have a place to do it. Now, the fact of engaging in this way is much more conscious. It's a choice that makes sense. Because if you want to play today, you can do it everywhere: in bars, concert halls…


How did this transition take place?
I think the diffusion of rap music and its commercialization on a large scale played an important role. Before, it was very difficult to find places to play a gig, and there was no Youtube. To make 500.000 views in one week, that didn't exist! Now everyone has the opportunity to release a single, to get involved with a company to do it. If today you choose to play in self-organized places, squats, universities, you know why you do it.
I always ask the question of sexism in the rap scene. I've noticed an evolution towards anti-sexist lyrics and a general effort to get out of this macho attitude, but the motives behind it are not always very clear. What do you think about it?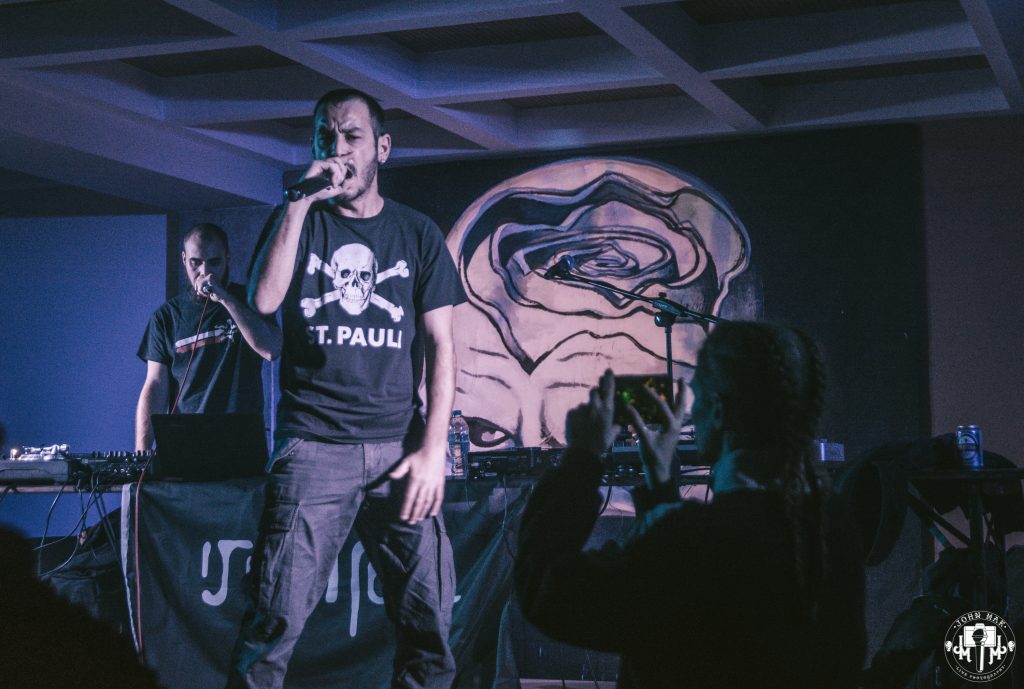 Sexist discourse goes back a long way in the history of rap.

I think that today, the main reason for this change of attitude can perhaps be the fear of being judged. In any case, it's better that kids who support this music and listen to it on a daily basis get used to it rather than the other way around!

But all this doesn't necessarily have anything to do with rap. It's more about society in general. The patriarchy is so deep-rooted that there is still a lot of work to do. In the last 3 years there has been a clear change, but let's not forget that it is still very recent.
It takes years for this to change in a permanent way.

What are your musical projects for the future?
For the moment, we are preparing a lot of things with the project: "#dio_miden_dio_miden" (two zero, two zero) with Jaul, KK and Incognito. It's pretty much my most concrete project at the moment. I also have some solo tracks coming out soon, so we'll see!


Lyrics
#dio_miden_dio_miden
ήρωας_incognito m._jaul_κκ : « Νυχτερίδες »
Hrwas – Incognito M. – Jaul – KK : « Chauve-Souris »
I have infected rap and I feel proud, injustice and patrol get dirty the city.
I threw out the muzzle since I was a kid, it never fit on my mouth.
I said take a stand and the echo still remains.
After midnight, we write down everything that should not be said, everything that should not be heard by those who've only learned to tolerate.
The microphones caught fire, let the rest of the Mcs burn themselves, They are advertisers, we are bottles that ignite.
I don't sing about sadness, I rap for its reasons, we don't have a place in the ensemble and that's how we got down to abstractions.
I don't sing for the whole earth, I rap for its districts.
Everything is street, choose in which street you will get involved.

(Chorus)
We go out into the streets at night like bats,
The game is simple, it's class against class.
As long as they lock their lives in strongboxes
Whatever you're looking for, you'll find it in the neighborhoods where you don't want to exist.