« Free press for Occitanie »
Seen from the outside, L'Empaillé is a militant and very valuable review based in Aveyron.
In mars 2021 we noticed the quarterly newspaper had become a regional one (published all over the Occitanie area)… and is now printed to more than 20 000 copies! Something never seen before in south-western France, especially with such a radical and committed content diametrically opposed to editorial policies obediently conformed to the side in power (La Dépêche in front, not to quote it). We thought it was impossible, L'Empaillé did it ! /strong>
Here is the report of the talk we had with Simon, member of the newspaper's team<
| Interview by Polka B. / Translated by Alice N. & Julie B.
If you wish to learn more about the newspaper, read articles or subscribe, you can visit their website :

How would you introduce the newspaper to someone who has never heard about it?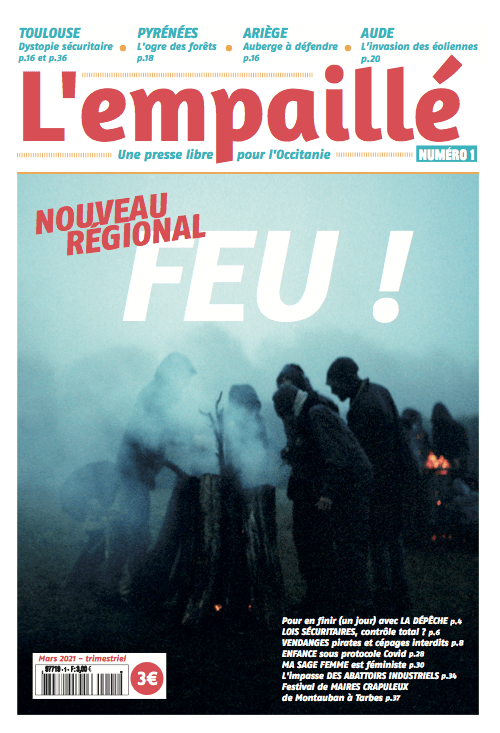 It depends to who I'm talking to… (laughs).

We try to produce an engaged local paper which pass on social struggles from different backgrounds. We see it as a relay of struggles with a section "critical investigation" in front of bourgeoisie and political, economic and media power.

We try not to fit in "classical journalism" too. We like this off-the-wall aspect that encourages us to develop other imaginaries. It can be through poetry.

We also like to speak in the first person in the articles.

It's well often people who directly lead fights who take up the pen and transcribe their experience, without intermediary. To write about what touch you personally is a committed choice that can complete the enquiries' angle seen from the outside.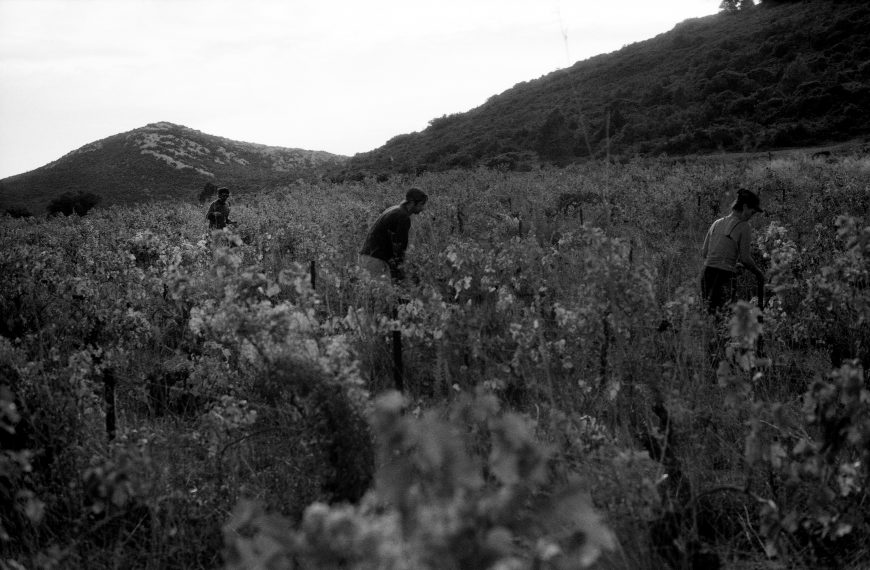 How did you get the idea to start L'Empaillé? Why did you expand it to the regional scale?
I come from Lille and with friends we were writing in La Brique. When I moved around here with others, we wanted to continue in this way. We got the will to break through the glass ceiling that often limits the significance of little alternative papers printed to 1000 copies. We wanted to try something. We didn't have the ambition to compete against the "big media", we only had the envy to approach some topics by touching more people. At some point we could develop a network beyond the Aveyron department. There was an exciting part about this idea of expansion. Step by step we manage to print 20 000 copies every three months. The area of distribution was quite large, and for a paper like our I think it's something new.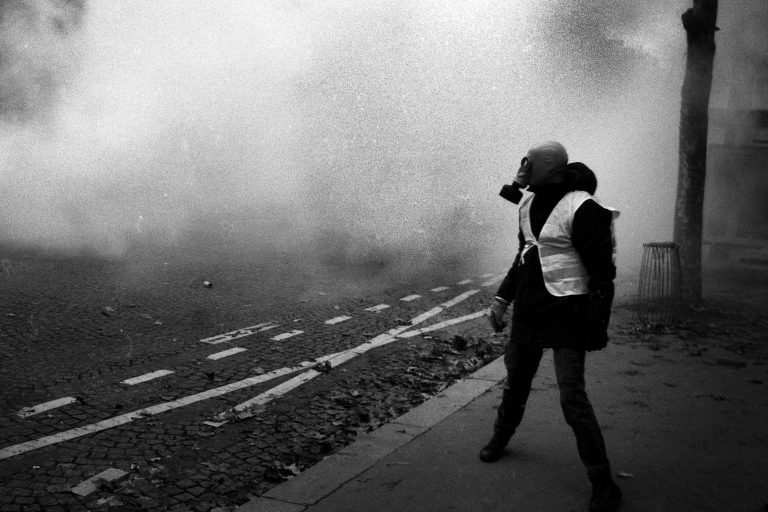 By reading your editorials, we got the feeling you built the paper in opposition to a certain type of press?
When we started the paper, we kind of followed this watchword. That was saying: "We gonna attack La Dépêche". It's a little bit true, but it's only one of our aspects. We don't only focus on the dominant press. Actually I have the feeling we take references more from the independent one.

When we got into enquiries, we are captivated by the subject and quickly we forgot this invasive press that's already settled everywhere around.

We prefer to focus on those who read us. It's especially for them we fight. Certain things must be known.

We found your way of writing rather open and accessible to everyone, for an activist paper. Was this one of your goals?
It is indeed one of the most important goals, even if it isn't always easy. On one hand, we wand to gather the « combative left ». On the other hand, we want to address everyone. This is why it is so important to be present in kiosks and local places.

If we restrain to the activist milieux, we'll fatally publish less papers, and talk to a more restricted amount of people. It's important that the activists rejoin around our paper, but they are not our number one target when we write.
How did you manage to find your economic model while keeping your editorial freedom ?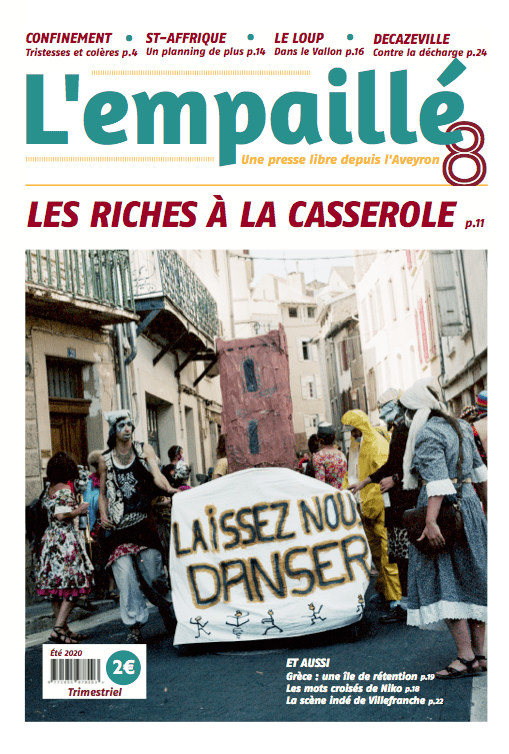 We've been able to benefit from the subvention dedicated to associative press from the beginning. These are the scraps that the ministry of Culture still allows us to get !

We also created our foundation, which relies on many activist projects. We also have to finance the journal fees (impression, sending, etc.).

In the end, we manage to pay for this thanks to the sales, up to 50% of the cost. The other half relies on the subventions. It's still precarious. The goal is to increase the sales in order to be as autonomous as possible.
Added to the kiosks and the subscriptions, we have a pretty important circuit of auto-diffusion. We manage this task directly through package-sending. Inside our team, there's one very motivated person finding new diffusion places all over the region. Today, we have around 300 places. If we want to develop an autonomous model, we should go up to 500 or 600. Our goal would be to be able to work without the subventions.
What does being a free media mean to you ?
It means writing freely about any subject. For now, the political regime « kind of » allows us to do so. But you know, keeping a « free » media alive in the long run… there's the real deal. For now, the fact that we benefit from state subventions hasn't forced us to avoid some subjects. This point is non-negotiable.

How was the journal welcomed by the audience ? You are very incisive when you talk about the dominant local press, but it remains an important source of information to many people, especially for the elder…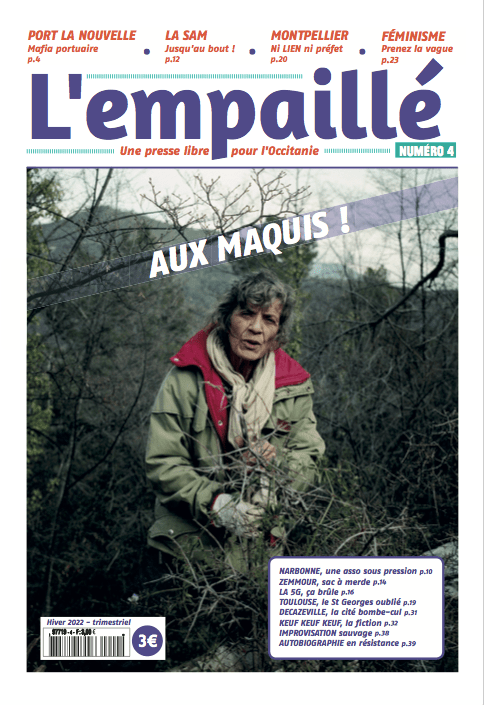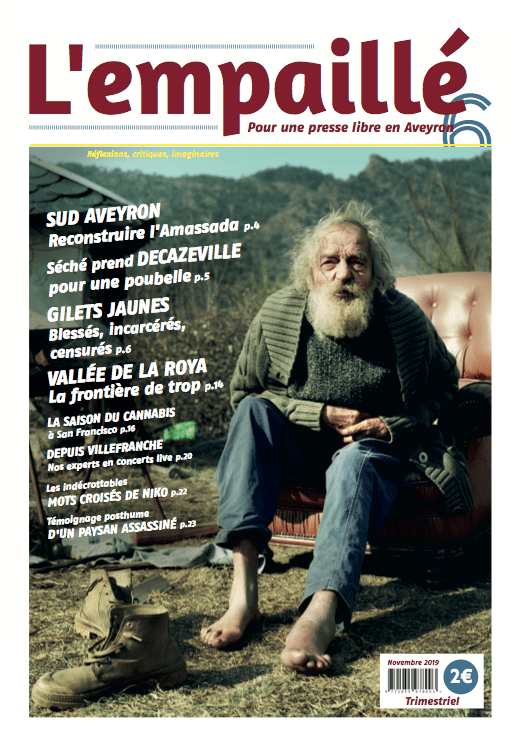 It's true, La Dépêche (powerful local newspaper) has a kind of associative role. But it's mainly because there's nothing else ! If one wants to communicate about something, any subject of upcoming event, it is the only available interlocutor. Therefore, it's impossible for this newspaper not to success.
And you know, back when we started, many kiosk owners contacted us to thank us. It really did make them feel good to have at least one local alternative to La Dépêche. There was at least one publication who could come and shake up the hegemony.
Even just a little… I mean, we never really felt like they were hostile towards us. Even La Dépêche didn't say a word. Their motto is : « lips are sealed ». That's the vibe… People do their work, and no one talks.
Do you think that you've succeeded in overcoming the exclusivity of activist groups ?
I think we have, thanks to the variety of diffusion places that we work with. In addition to that, we've had the occasion to work with people who do not come from activist milieux at all. When it comes to the audience, it is more difficult to estimate. We don't really know who buys the paper. But we are sure of one thing : we are useful to something. We need newspaper to further the fight.
In the 3rd issue's editorial, you were calling people to « joyfully resist ». Is this one of your mottos ?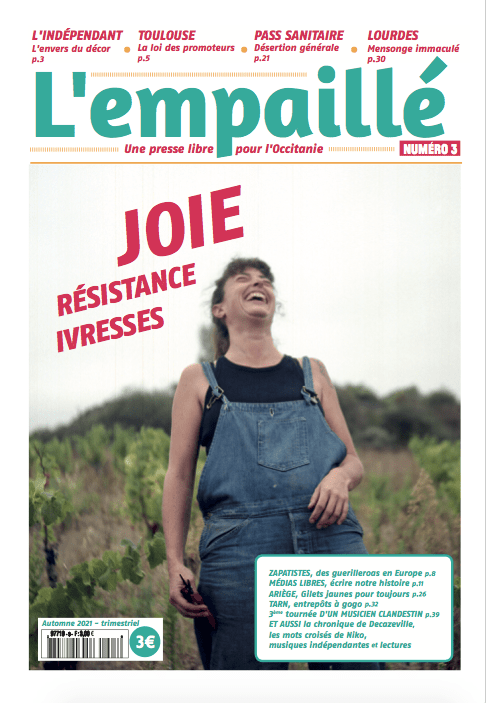 Philosophically, we were interested in unraveling the word « joy ». There is a big part of self-fulfilment in the act of making the paper.

It's really important. It carries us through. We want to laugh, to create original stuff, to find new forms of action… We want to allow ourselves all that.

I've experienced it myself when I was part of certain collectives. When you get frustrated, it doesn't work out !

Fulfilment also happens through creation. And it allows the projects to succeed. I think that's what we meant.

One last word ?
Issue n.7 is out… (« Abondance, Pénurie… Rentrée Sociale! »). We are glad. We're gonna be able to rest for a little while. Thank you !