Gathered in Béziers around Ratboy and Mumu, the groups La Meute, Tados, Solidagité and La Bande à Kaader rehearsed in the same place. They also travelled a lot together! As the BAK gave their last concert on 13/12 last year, we thought it was the right time to remind them of their trip to the Hardzazat Fest in 2017! Meeting with Gaab and Baastien to discuss about it over a drink in Montpellier !
On the 3rd page, we'll let the Hardzazat crew members speak, who will present their event themselves. | Interview by Polka B. / Trad: Alkistis A.
How did you have the opportunity to go to the Hardzazat Festival?
Let's just say that our singer Mumu has a fairly extensive network! It started with a meeting with Aimane, one of the pillars of Hardzazat. We saw that there were support stages in the Paris region for French bands to come and play at the festival. As for us, we decided to finance the trip ourselves because we were very motivated to do it. In low-cost mode, and it was on!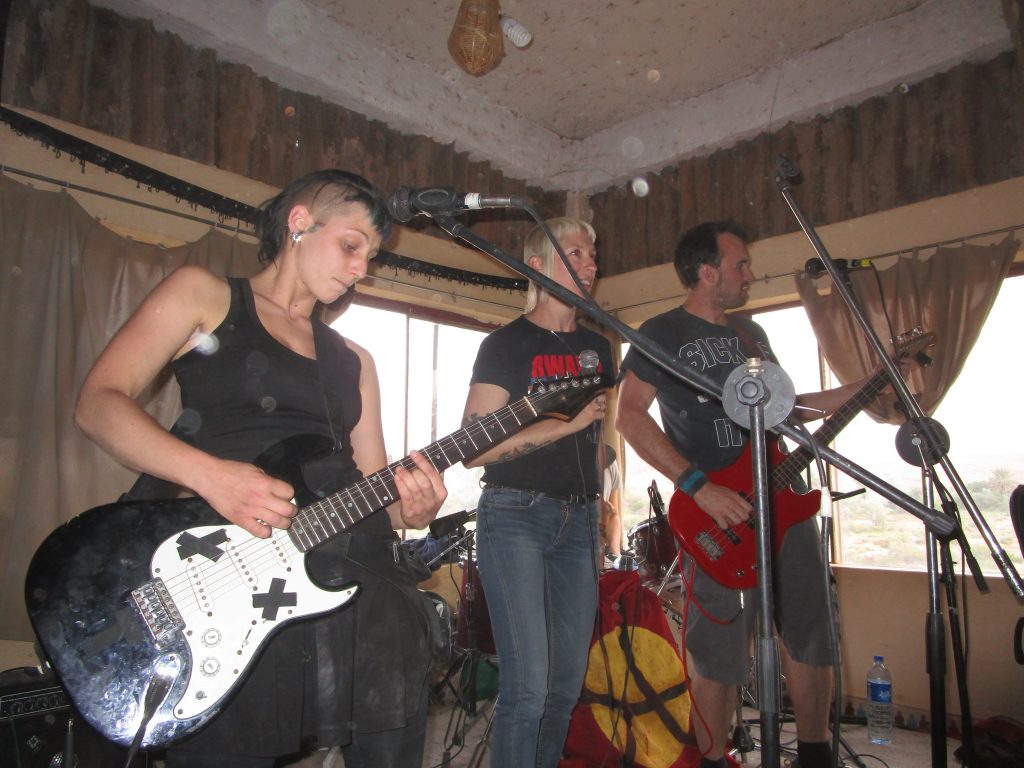 You only went off with La Bande à Kaader?
Our band is a bit special, at the time it was a group included more or less 3 bands : Tados, Solidagité and La Bande à Kaader ! We've been connected for quite some time now. In fact, we both play in the band Solidagité. For this trip to Morocco, we were also accompanied by the collective Kamera Krew from Béziers.
How was your arrival?
We left Barcelona and landed at Marrakech airport. Once arrived at the University of Ouarzazate, people of the organisation were super motivated, it was a pleasure. There were projections with graffiti, rap, techno, punk and metal bands. The only problem was that King Mohammed VI was due to come over the same weekend to inaugurate a big hotel complex. To party in this context as if nothing had happened, it was impossible. As a result, the festival had to relocate all the concerts at the last minute!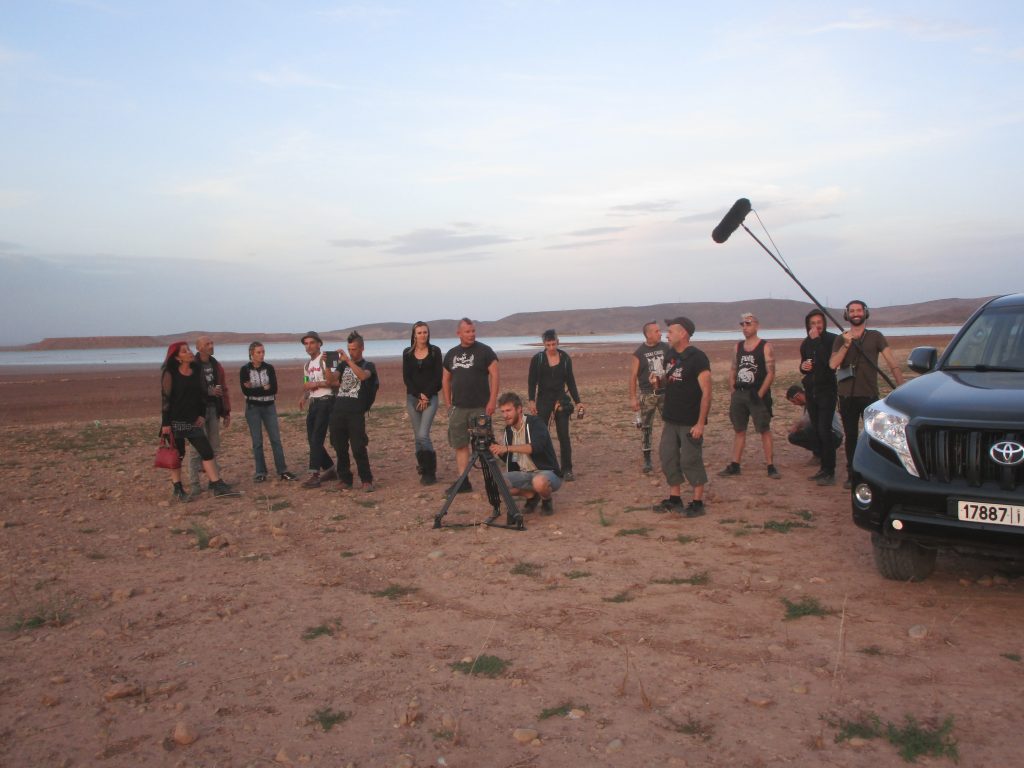 How did the organisation manage this unexpected event?
Two of the four concert nights were cancelled. All the bands were concentrated on saturday and sunday. After two days of exhibitions and projections, we left in buses to go to the new concert venue. All together, audience included! We arrived in a hostel which was not at all conceived for that at the base. In a restaurant – Moroccan lounge mode. The place where you don't expect to put a drum kit in at all! There was a picture of Depardieu dressed as Obelix posing with the boss hanging on the wall ! Around it, the landscape was really impressive. In fact, a lot of film studios are filming there all year round. If you're a film fan, you get impressed right away! The place was next to the Kasbah of Tifoultoute, a sort of red earth spur that dominates the whole valley.
What impressed you about the local public?
You could sense that there was a great expectation among them, especially among the younger ones. Unfortunately, they're not used to seeing concerts as often as we are. They needed their dose of punk-rock! Hardzazat people go to a lot of trouble to organise their festival, and when you see this kind of reaction you understand the meaning of it. It was intense, because we got to see more than twenty bands in just two days! The energy was crazy.
Were there other western bands?
Yes, there was Culture Lutte, Nausea Bomb and Bow!
Apart from the festival, do you have any anecdote about our escapade to tell us?
It's a bit lame, but one day in a small shop, a guy grabbs us and says : "Watch out, you're in Morgan Freeman's shop". So we start talking to him in a joke tone. Suddenly, we turn around and come face to face with who? Morgan Freeman! His doppelganger is moroccan, now you know that.
And to talk about you: La Bande à Kaader, why is it over?
We didn't have the same dynamic, the same plans… we wanted to move on. We're going to release something soon anyway, because we still had a few songs left to record! At the beginning of the band, we wanted to mix punk with oi influences from the 80s… I don't think we ever succeeded. (Laughs) Did we just try? By mixing different influences we made street-punk a little bit hybrid. Anyway, it was fast, aggressive, simple and effective, just the way we like it!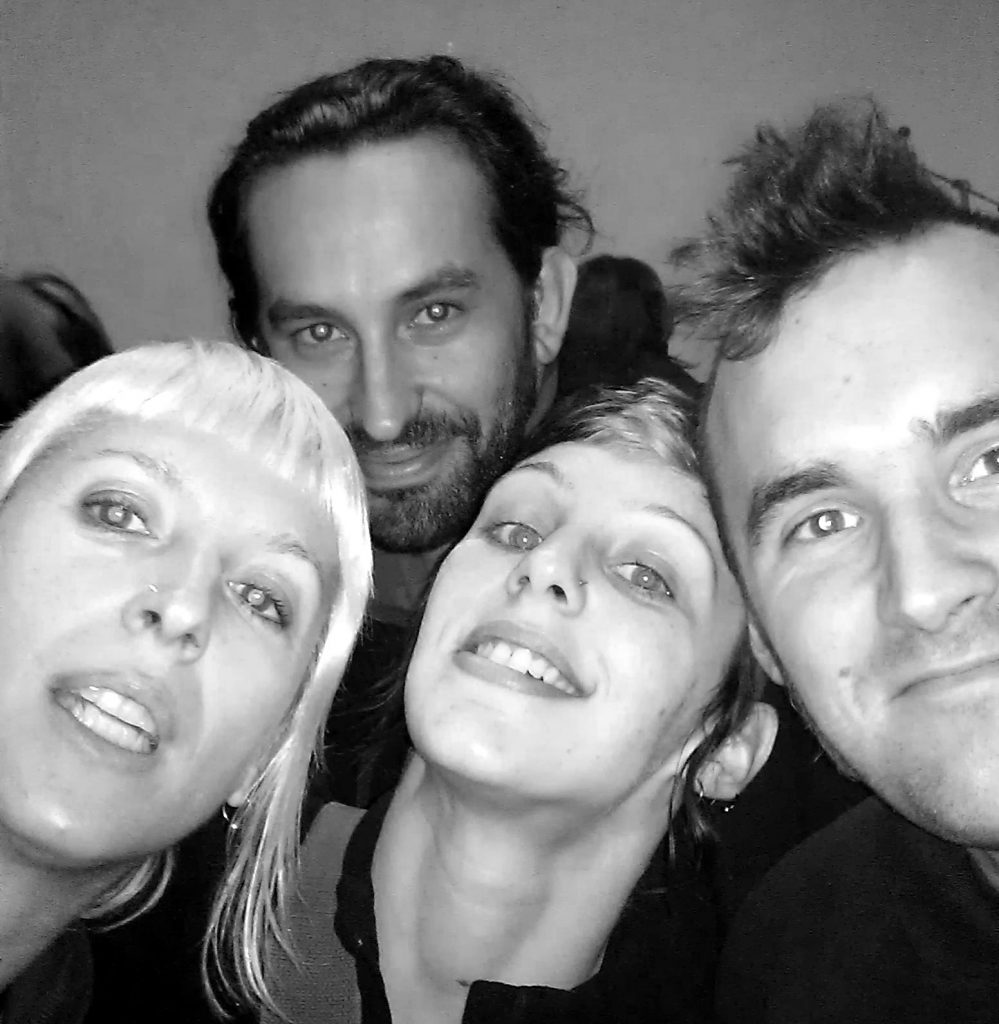 What did you get out of this trip to Morocco?
Our trip was pretty quick, but as the first two days of concerts had been cancelled, we took more time to settle down during the projections. That set the scene ! Those documentaries did us a lot of good because they allowed us to see the sacrifices you have to make to make alternative music when you're a Moroccan (see p.46). After that, you don't see things the same way any more. Being involved doesn't have the same meaning. They have a lot more worth, respect for them. It's not easy to play punk in France every day, but it's still pleasant because you don't risk anything!
---
Communiqué : HARDZAZAT FESTIVAL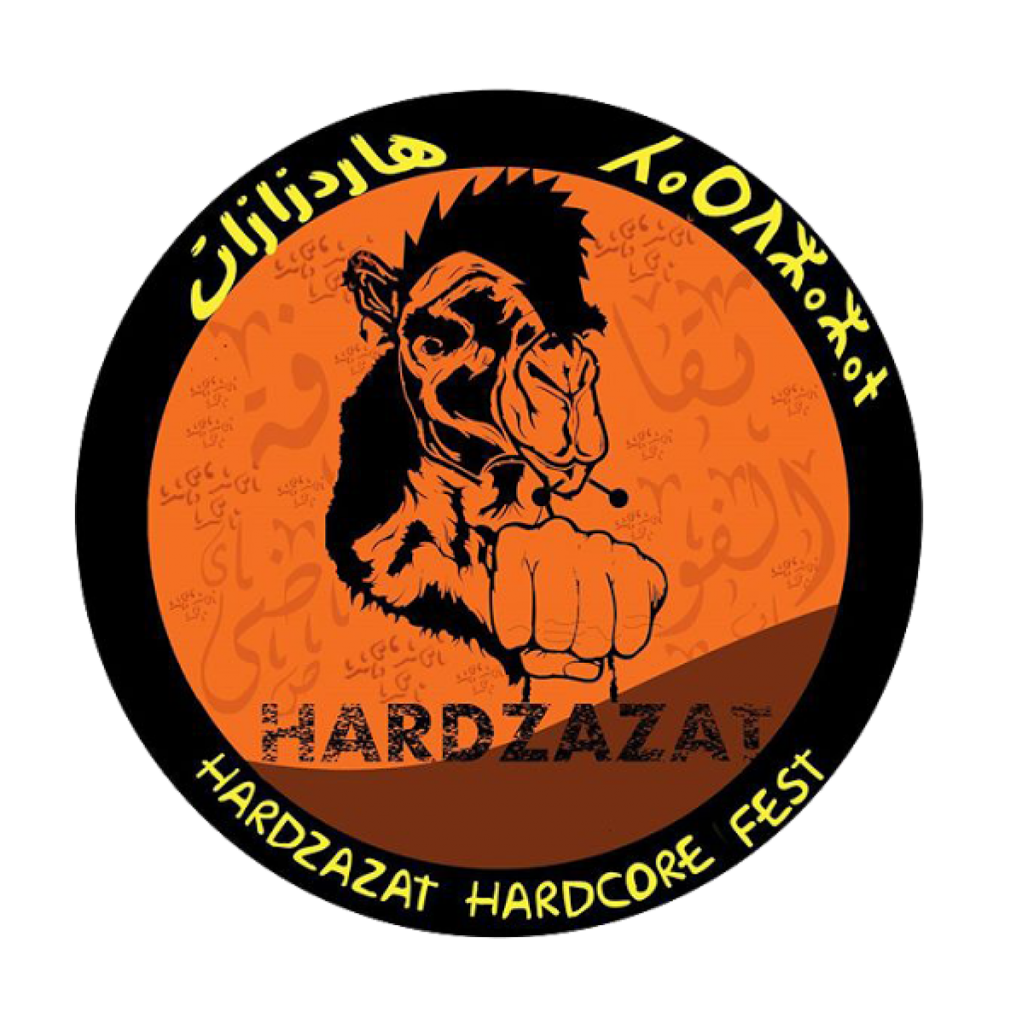 Ouarzazzat is one of the most touristic cities in Morocco, also known world widely for its cinematographic culture. While this culture is based on the professional cinema studios and foreigner movies investment (Hollywood as an example), the local population doesn't really
participate in this culture evolution, specially the youth.
The Hardzazat group formed by Ouarzazat college students and local younths, took the challenge of creating an alternative DIY (do it yourself) project. This is how every year people gather in Ouarazzat in order to exchange cultural experience during "The Hardzazat Hardcore Fest".
The proposed activities are music of bands coming from around the world sharing the same underground and independent spirit, debate spaces where the Hardzazat attendance can talk about different issues (Capitalism, Gender, Autonomy…), documentaries projection, followed by debates with their directors, graffiti murals…
The festival is also a "communist holidays", aiming to emancipate all the attendance, specially as
it's gathering the Moroccan libertarian minorities.
The event is autonomous and selfmanaged, based on a strong relation with the local habitants.
The main idea is to create a safe space from the dominant culture, therefor there's no tolerance for violence, sexism, homophobia or any form of discrimination and where all the participant get to be treated equally.
It's also free and open to everyone as long as they respect the Hardzazat Hardcore Fest values. The festival founds are none commercial and eco-friendly, that's why it refuses to get sponsored by big companies. Hardzazat is against publicity and commercial media promotion.
Antifa & decolonial fest
In a time ruled by a globalized economy supported by the political regimes of the states, the festival tries as a result of strong opposition against the current regimes to
create a free-living space where people can exchange various experiences about autonomy, aiming to free people form the dominance of the state, the market global economy and all the traditional power games.
Hardzazat Hardcore Fest adopt decolonial concepts, as it's a festival by and for none-white
people under systemic racism.
It is an occasion to regroup people from southern countries, talk about racism issues, organize local helps and frequent events.
The decolonial issues are part of a
more general political engagement of the fest, treating problems like racism, sexism, homophobia. in order to build an autonomous movement of revolted and revolutionaries.